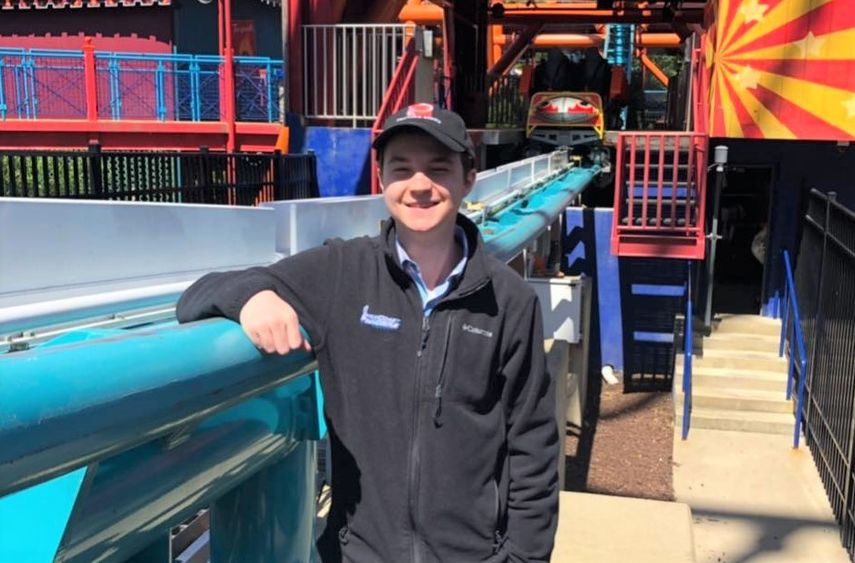 William Friedlander can pinpoint the exact moment he knew what he wanted to be when he grew up. It was 2006, he was in the second grade, and his big brother was seated next to him on the Phantom's Revenge, a roller coaster at Kennywood Park, near his hometown of Pittsburgh.
"My brother was sort of terrorizing me and telling me how scared I was going to be as we climbed the first hill," said Friedlander, a spring 2020 graduate of Penn State who attended the Behrend campus, where he earned a degree in mechanical engineering. "But the second we crested and started to fall, I was hooked. It was exhilarating."
By fourth grade, Friedlander had talked his parents into taking him to Cedar Point, the "roller coaster capital of the world," in Sandusky, Ohio. He was still too short to ride the biggest coasters, but he buckled in on the Maverick, his first propulsion-launch coaster. Then, with wobbling knees, he boarded the Top Thrill Dragster, which takes riders from zero to 122 mph in 3.8 seconds.
"When I got off the Dragster, I had the same feeling that I did the first time I rode Phantom's Revenge," he said. "It just fed my obsession."
So did K'NEX, the building toy. When he was in fifth and sixth grade, Friedlander commandeered an entire room in the family's home to build an elaborate amusement park, using more than 20,000 pieces of K'NEX.
"My parents were very understanding," he said. "I just let my imagination run wild."
By the time he was in middle school, Friedlander was e-mailing roller coaster design companies, asking for advice on how to become a coaster engineer. They suggested he earn a degree in mechanical engineering while gaining any experience he could working with coasters.
As a teen, he worked as a ride operator on Phantom's Revenge. The next year, he worked on the ride's maintenance and operations team, where he got an up-close look at the coaster's mechanics and safety features.
As a junior at Penn State Behrend, he landed an internship at Premier Rides, a coaster-design company in Baltimore.
"I learned they had internships available, and I called them weekly for three months," he said. "Kathy in human resources and I became pretty good friends."
He worked in Premier's parts and service department. The position involved monitoring coaster parts inventory and assisting clients, but he also had the opportunity to analyze the braking system for one of the company's rides.
"I had no background in pneumatic systems," he said, "so that was a great educational experience."
Last year, Friedlander returned to Premier, where he worked as a project engineering intern. He prototyped and tested a lap bar for a coaster restraint system.
As thrilling as the rides can be, he said, roller coasters are generally safer than the average automobile. "You'd be surprised to see all the safety standards and the daily inspection that occurs," he said. "Every single restraint is tested every day. And there are several fail-safes, which are backups for any safety feature. So even if one thing does fail, there are two or three other means of preventing disaster."
And that feeling of weightlessness, when a coaster dips or inverts and your body presses against the restraint? That's a trick, Friedlander said: The coaster never leaves the track.
"They never leave the track. Ever," he said. "It may feel that way, because your body experiences zero gravity, in which you lift up off the seat, but the car is actually secured to the track by wheels on both the top and bottom."
Premier was so impressed by Friedlander's work that the company sponsored a senior capstone research project at Penn State Behrend. Friedlander and three classmates – Hailee Crimbchin, Dakota Hetrick and Kaitlin Peterman – designed a standard measurement system to analyze forces and stresses on coaster components.
The project took Friedlander one step closer to his career goal: a job as a field engineer for a coaster-design company. That's the person who builds the coaster and solves any problems on-site.
"People are so stressed out today," he said. "I want to build rides that give them some joy and let them escape their worries, even if only for a minute or two."
Contact
Heather Cass
Publications and design coordinator
Penn State Erie, The Behrend College