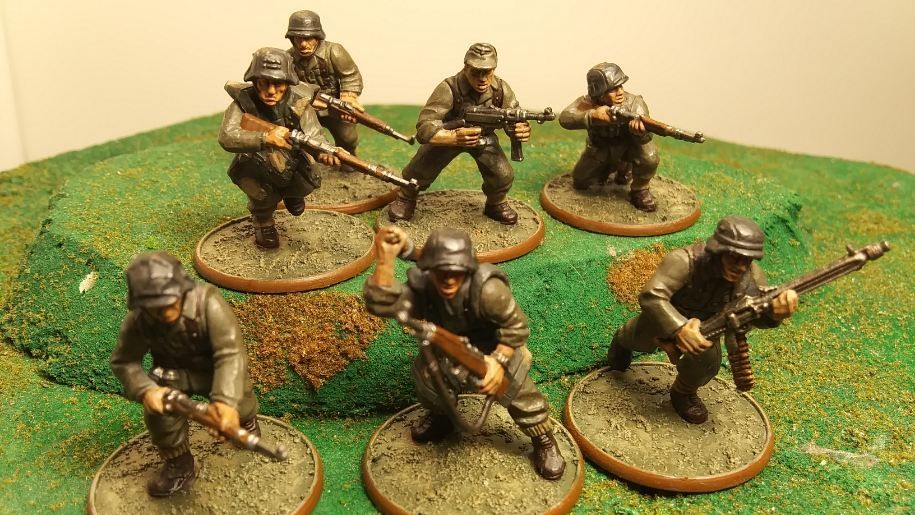 Whenever he needs a break from the pandemic, the political talk, and the pressures of his senior year, Jerry App has fashioned an escape: a detailed battlefield diorama of 1500s Italy.
App, a history major at Penn State Behrend, is a kriegsmodelle enthusiast. He paints tiny figures and scenery and then stages elaborate and historically accurate battle scenes in miniature. Lately, he's been working on the Italian Wars, depicting battles between the Holy Roman Empire and France for control of Italy.
He has plenty to work with. From 1494 to 1559, the Italian peninsula was the main battleground for European supremacy. Everybody wanted a piece of Italy's "boot," which was economically advanced but politically divided among several states, making it an attractive target.
"I've had to do a lot of research before I could actually begin building and painting the models, but it's worth the effort," App said.
Delving deep into history is a labor of love for App, who can trace his fascination with the past to a classic fantasy game he played as a child.
"My dad taught me to play Dungeons and Dragons when I turned 10," he said. "I got really interested in the medieval ages, specifically the realistic and historical sides to fantasy tropes."
They bought some old pewter Grenadier models, which they painted together. Then App discovered a game called Warhammer Fantasy, which kicked off his interest in wargaming.
It's a pastime that he and his father still share today. And it's particularly suited for a pandemic.
"It's been a great hobby to have during the lockdown," App said. "Earlier this year, I was home from college, and my parents were off work for a while, which gave us a lot of time to catch up on painting and playing. You could start a wargame on Sunday and play it all week."
We caught up with App to learn more about his hobby, his personal history and how both influenced his academic and career choices.
Your dad introduced you to both fantasy gaming, through Dungeons and Dragons, and modeling?
Yes. He started modeling when he was a kid, putting together World War II kits. He actually still has some of those kits, and he's assembled a few WWII models recently. He was inspired by our recent visit to Gettysburg, and he recently bought some Civil War models. So, we've been working on those, too.
What do you enjoy about kriegsmodelle?
I enjoy being able to take gray, flat plastic sprues, which are the generic figures, and turn them into fully built and painted pieces. It's very calming and helps me relieve stress after a long day. When I build and paint models, my mind is completely focused on what I am doing at that moment. It's almost like meditation.
Where do you buy the figures?
It depends on the genre. Historical models can be difficult to find, depending on the period. For example, you can easily find Napoleonic or late-Imperial Romans, but you'll really have to scrounge for Wars of Lombardy or Russian Civil War. Science fiction and fantasy models are easier to find, and you can find them on eBay or Amazon for a decent price. Local stores or hobby shops that carry models are especially nice to work with, if you have one nearby.
The figures arrive in need of a paint job?
That's the best part! I try to sit down for an hour or two every day to work on a squad of models. I paint them in groups, which speeds up the process a lot. This is referred to as "batch painting."
How many models do you have?
I have around 2,250, but only about 1,000 of them are painted, with 11 still needing assembly. My dad has a comparable amount. We work on the models in our basement, which is affectionately named the "Nerd Bunker" by friends and family. I've been painting for 10 years (of my life) this month.
What are you working on now?
The Italian wars, a couple of Warhammer 40,000 armies and the Cvil War models my dad picked up. It's a lot of different projects, but I'm never without something new to paint.
You also study German?
I'm working toward a certificate in German. My grandmother, Omi, is from southern Prussia, and she inspired me to take up German. I'm hoping I will become proficient enough to be able to speak with her in Deutsche.
What are your career goals?
Originally, I wanted to become a civil servant and work for a government agency. However, I've also looked into museum work and law school. Right now, I'm considering using my degree as a launch pad into Naval Officer Candidate School. I'm not committed to one plan yet, but I'm starting to narrow it down.
What advice do you have for those who might want to try kriegsmodelle?
I'm the vice president for the Behrend Game Club, and I'm also the club's strategy committee head. If any students are interested in pursuing the kriegsmodelle hobby, join the club on Behrend Sync and get involved. I'm happy to answer any questions and share resources to help another start their own collection.
Contact
Heather Cass
Publications and design coordinator
Penn State Erie, The Behrend College