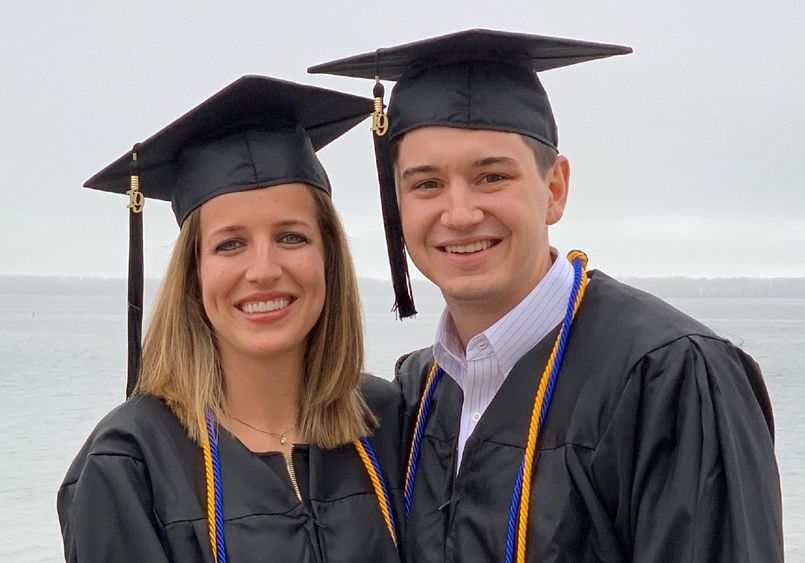 ERIE, Pa. — Flowers are nice, but true romance more often is built on shared experiences: travel, mutual interests, maybe even an accounting course.
That's been the route for three couples who recently went back to school together, enrolling in the MBA program at Penn State Behrend. The 30-credit program is offered in three formats: Full- or part-time study in Erie, or part-time study at the Regional Learning Alliance in Cranberry Township.
The program can be completed in one year of full-time study or two years of part-time work.
We asked each of the couples what it was like to study with their significant other.
Sarah and Bruce Hordusky married in 2017 and enrolled in Behrend's MBA program a few months later. They graduated in August.
"My dad graduated with an MBA from Behrend, and he inspired us both to do it as well," said Sarah, who works as a pharmacist.
Bruce, an engineer, wanted to improve his leadership skills and position himself for future opportunities for promotions. The MBA experience turned into something much more, he said.
"The friends we've made through the program are amazing," he said. "That's been one of the best parts."
Did the couple have any regrets about enrolling in the program together?
"None," Sarah said. "We always knew who our partner would be for any class projects."
Like the Horduskys, Kimberly and Aaron Ramsey had been married only a few months before they enrolled in the MBA program in 2017. They earned their Behrend degrees at the Regional Learning Alliance.
"We thought, 'Why not give this a try? It will be a good test,'" said Kimberly, who works in supply chain management. She and Aaron studied at night, working at the kitchen table or curled up on the couch with their laptops.
They completed the program in 2019.
"I feel like we had an advantage, because we could bounce ideas off each other anytime," said Aaron, who works as a sales manager for a manufacturing company. "Since we were in it together, we were able to talk about it at dinner, or any time, really. We were both in the same groove."
The couple is about to begin a new program: Parenting. Their first child, a girl, is due in May.
High-school sweethearts Ashley and Matt Merks earned their undergraduate degrees at Behrend. They married in 2013.
"We wanted to get our MBAs and had talked about it since graduating," said Ashley, who works as a project manager, "but life got too busy. We both had demanding jobs, and it just didn't happen."
When a manager told Ashley that an MBA would help her move up in the company, she raised the idea again with Matt. He decided to enroll with her.
"We figured it would be easier if we were both in the program," Ashley said. "Matt had wanted to do it for years, so we decided to go for it."
Like the Ramseys, they attended classes at the Regional Learning Alliance in Cranberry. They sat next to each other in class.
At home, while cooking dinner, they talked through their class assignments. On Saturday nights, they studied accounting.
"It was a lot of work," said Matt, who works as a senior manager, "but at least we were still spending that time together."
They sometimes studied late into the night, which proved useful for their next project: In April, just months before the couple graduated, Ashley learned she was pregnant.
Their son, Connor Matthew, was born Jan. 2.
"The timing was perfect," Matt said. "We got our MBAs, and then we started our family."