Latest gift extends more than $2.7 million in giving by Warren couple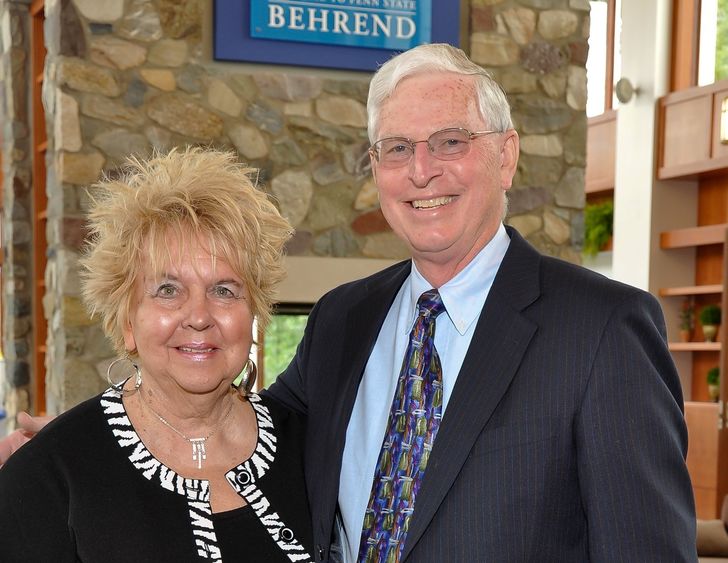 Bob and Sally Metzgar's support for Penn State Behrend could best be characterized by its breadth: Their giving has expanded academic scholarships, athletics programs and day-to-day operations of the college's admissions, financial aid, alumni relations and registrar's offices, which are housed in the Robert and Sally Metzgar Admissions and Alumni Center.
A new scholarship named for Sally Metzgar, who died on July 19, 2019, will extend that reach even further, supporting diversity efforts at Behrend. The fund – the Sally Nelson Metzgar Educational Equity Memorial Scholarship, established by Bob Metzgar – will benefit students whose gender, race or ethnic identity contribute to the diversity of the college.
"Sally was a nurturing person, and she saw the potential in every student she met," Behrend Chancellor Ralph Ford said. "It was important to her that Metzgar Center be a resource for all students, and that it serve as a sort of 'front door' and welcoming point for the college."
The building, which was dedicated in 2010, is, for many, the first impression of Penn State Behrend. Campus tours depart from its two-story lobby.
Other offices in the building support core functions of the college, from financial aid and billing to transcripts and introductions to the alumni network.
"Students need different forms of support at different points in their college experience," Ford said. "Bob and Sally Metzgar's longtime giving has provided resources and promoted opportunities at every step in that journey. The college is deeply appreciative of their steadfast support."
The Metzgars' philanthropic support of the college and Penn State dates to 1972, when they first donated to the Levi Lamb Fund, which provides scholarships and other support to more than 800 varsity student-athletes.
Through the years, the couple provided funding for the Energy and Fuels Research Center, the School of Theatre, WPSU-TV and the Four Diamonds Fund at Penn State Children's Hospital.
The Metzgars' giving to Penn State Behrend now totals more than $2.7 million, including funding for seven different scholarship endowments. The new fund will support three students every year.
Bob Metzgar attended Penn State Behrend for two years before earning a bachelor's degree in business administration at Penn State's University Park campus. He owned and was president of North Penn Pipe and Supply, a wholesale supplier of materials, goods and services to oil and gas exploration companies.
Sally Metzgar devoted much of her career to North Penn Pipe and Supply, serving in various roles from 1977 until her retirement in 2009. She previously worked at Bell Telephone and at the U.S. Navy's Ordinance Research Lab. Before that, she worked as a model, appearing often in the West Penn Power family magazine.
Bob Metzgar continues to serve as a trusted adviser to Chancellor Ford and the Penn State Behrend leadership team. In December, he was named director emeritus of the Council of Fellows Board of Directors, which provides insight and advice on matters ranging from strategic planning and academic programs to fundraising and alumni support. He also is an emeritus member of the Penn State Board of Trustees.
The new gift in Sally Metzgar's honor will advance "A Greater Penn State for 21st Century Excellence," a focused campaign that seeks to elevate Penn State's position as a leading public university in a world defined by rapid change and global connections. With the support of alumni and friends, "A Greater Penn State" seeks to fulfill the three key imperatives of a 21st-century public university: keeping the doors to higher education open to hard-working students regardless of financial well-being; creating transformative experiences that go beyond the classroom; and impacting the world by serving communities and fueling discovery, innovation and entrepreneurship. To learn more about "A Greater Penn State for 21st Century Excellence," visit greaterpennstate.psu.edu.
Contact
Robb Frederick
Assistant director, news and information, Penn State Behrend