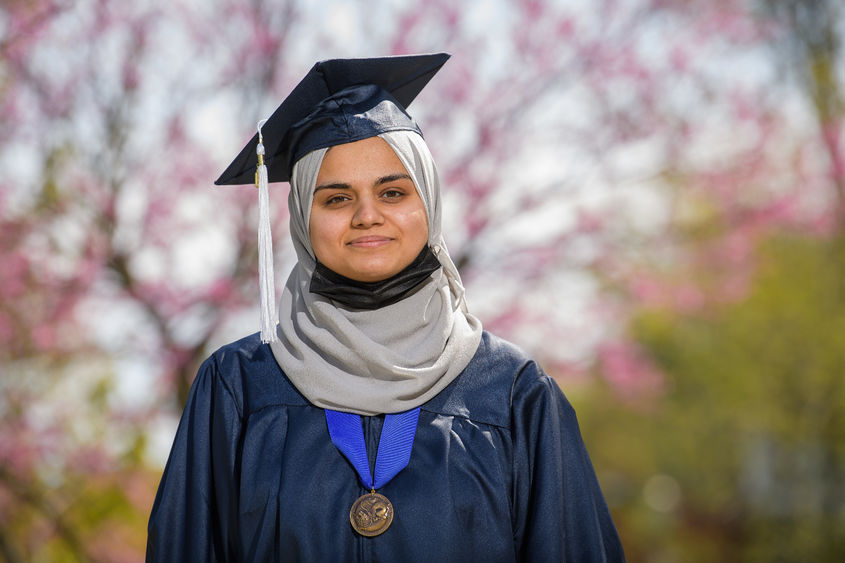 ERIE, Pa. — As he adjusted his mortarboard and tassel for a few photos before his commencement in May, Adrion Orange, a 2021 plastics engineering technology graduate, reflected on his first days at Penn State Behrend.
As a member of the inaugural class of the Pathways to Success Summer Start (PaSSS) program in 2017, he arrived at Behrend two months early, taking two classes and participating in workshops, mentoring and other activities to prepare him for college and set him up for success, academically and socially.
"Almost every good thing that has happened to me in the last four years, I can trace back to PaSSS through the contacts I made, lessons I learned from the professors and mentors, and opportunities I was given through the program," Orange said.  
Starting strong
The six-week summer start program offers qualifying first-year students tools and resources that increase the likelihood they will not only earn a Penn State degree but do so in four years or less.
Orange is one of several in the first PaSSS cohort who accomplished that mission in May. Some finished even earlier, graduating the previous semester.
Orange left Behrend with not only a bachelor's degree, but also the promise of a job as a project engineer with Bayer. He also built a cadre of close friends.
Among those friends is Mason deHénaut, who also graduated in May with dual degrees in computer science and mathematics. Orange and deHénaut met in PaSSS and became roommates for the next four years.
PaSSS smoothed the transition to college life, deHénaut said.
"By the time I started, I knew my way around campus and had an idea of what classes would be like," he said. "It let me get a little bit ahead in terms of credits and gave me a small taste of college, which made it much easier to take on a full schedule of classes in the fall."
He will be attending graduate school for his certification to teach computer science or mathematics. It will cost him very little, as he is a recipient of a Robert Noyce Teacher Scholarship, which encourages talented STEM majors to become K-12 teachers in high-needs districts in the United States.
Finishing stronger
Alaa Kareem, who attended PaSSS with Orange and deHénaut, graduated in May with a degree in biology. She will be attending Lake Erie College of Osteopathic Medicine (LECOM) in Erie this fall.
"The PaSSS program made me much more confident in my own abilities," she said. "It really prepared me for my first year at Behrend. It's hard to adapt to a new environment and a new set of study skills and meet people, too. PaSSS gave me a chance to work on all of that and make new friends."
Like Kareem, Rosalee Sepella, a 2021 marketing graduate and PaSSS participant, said the program helped her get comfortable with college.
"It really smoothed my transition from high school to college," Sepella said. "It was a great way to ease into college and to make sure it's the right thing for you."
Following graduation, Sepella accepted a position with Synaptic, an Erie marketing company. She will participate in the company's management training program.
"The PaSSS program changed my life," Sepella said. "I would not be where I am today without it."
'The first domino'
Orange equates the PaSSS program to the first domino in a line that, when tipped, sets off a cascade of other opportunities.
"I got a job in the plastics lab on campus because of the PaSSS program, and the work I did there led to my position at Bayer," Orange said. "The mentors I met through PaSSS were older students on campus who introduced me to Lion Ambassadors. Through that club, I met many influential students on campus who helped me become a Resident Assistant, and on and on."
For those just beginning at Behrend, there's additional incentive to join the PaSSS program. Excelerate, a collaboration of Erie Insurance and Penn State Behrend, provides scholarship funds for qualifying students and the opportunity to participate in special paid internships with local start-up and nonprofit organizations in the students' third and fourth years at Behrend.
One student who benefited from the scholarship funding is Kelly Cass, a first-year elementary and early childhood education major, who participated in the 2020 PaSSS program after being identified by her ALEKS math assessment score as a student who needed additional math preparation for college.
Cass took two summer classes, participated in mentoring opportunities, weekly presentations and academic skills workshops, and came up with a four-year action plan. She said the PaSSS Math Academy was especially helpful, as it gave her the confidence and skills to do well in her MATH 200 and 201 classes.
Dominos set in motion, Cass finished her first year at Behrend with a 3.8 GPA. She has accepted a summer job on campus with the college's K-12 Outreach Center. 
Learn more about the PaSSS program at behrend.psu.edu/passs.
About Achieve Penn State
Pathway to Success: Summer Start (PaSSS) is part of Achieve Penn State, an initiative which supports hard-working students and their families by helping them plan for their future by eliminating obstacles so they can graduate with lower debt and in less time. Achieve Penn State programs support students and families through institutional scholarships, summer school and on-campus employment, financial literacy and campus transitions to help students to experience all that Penn State has to offer.
To learn more about Achieve Penn State, visit achieve.psu.edu.
Contact
Heather Cass
Publications and design coordinator
Penn State Erie, The Behrend College