Intrieri Family fund will pay out scholarships to Behrend students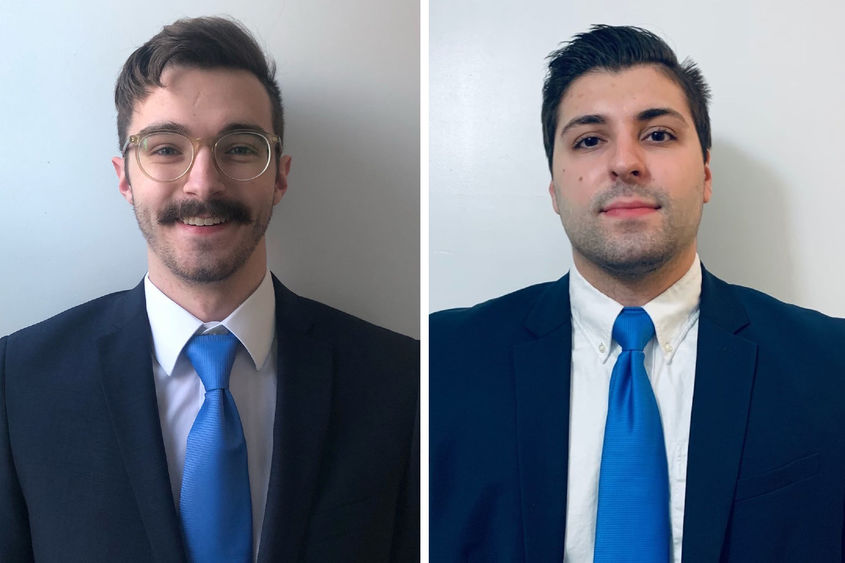 The Intrieri Family Student-Managed Fund at Penn State Behrend was always intended to be a long-game investment. When it launched in 2012, building on a $100,000 gift from Behrend alumnus Vincent Intrieri and his wife, Joanne, the fund promised a significant payout once the balance grew to $1 million: It would create scholarships for students in Behrend's Black School of Business.
That benefit is about to kick in, thanks to the sound investment strategy of the fund's student managers, who use real money and reinvest the profits. In March, the fund topped $1 million for the first time, triggering the scholarship component. Today, the balance is more than $1.12 million.
"We've given the next group a bit of a cushion – a little extra on top of that million dollars," said Evan Briant, who helped steer the fund through the last year. He graduated in May with degrees in finance and accounting and is now working for WESCO International, a Fortune 500 holding company.
"It was important to us that we leave the fund in a strong position," said Michael Tejchman, who worked closely with Briant throughout the year. He earned degrees in finance and accounting and is completing an internship at First National Bank in Pittsburgh.
"As the balance has grown, there has been more pressure to maintain that growth," Tejchman said. "No one wants to be the one who tanks the fund and ruins this for everyone."
That sense of real-stakes responsibility – profits are reinvested, but any money that is lost is gone forever – is the signature component of the Intrieri fund, said Greg Filbeck, director of the Black School of Business. Students weigh their decisions more carefully than they might in a case study or classroom simulation.
"It's a much more deliberative process when you are working with real money," Filbeck said. "It instills a greater sense of responsibility. There is no better way to prepare our students than to put them in an environment that shows both the benefits and the consequences of different investment strategies."
The last year posed a new challenge: When the pandemic forced the University into a remote-learning environment, the fund's managers had to move their strategy sessions online.
"We had to find a different way to debate," Tejchman said. "In previous years, those discussions sometimes got super-intense, with a lot of back-and-forth, really in-depth debate about the stocks people were pitching. On Zoom, we moved more toward, 'be there, be present, hear the pitches and evaluate them on your own time.'"
The markets, meanwhile, were in free-fall. In March 2020, the S&P 500 dropped nearly 34%, erasing three years of gains. The Intrieri fund, which had been valued at nearly $900,000, fell to $650,000.
"That was scary," Briant said. "Investing is a mental exercise, but it also can be an emotional experience, especially when the markets are down. We've had to learn not to react emotionally, but to focus, and to look for new opportunities."
The fund managers sold some holdings that had generated profits and reinvested in growth stocks, buying when prices were low.
"There was opportunity everywhere," Tejchman said. "Almost everything was undervalued."
The markets surged back, and the Intrieri fund grew again. The fund is up more than 18% over the last year. That's 7% better than the S&P over the same period.
"The fund is worth almost double what it was a year ago," said Tim Krause, associate professor of finance and director of the fund since 2014. "The students did that. They stayed calm and stuck to their strategy, and it worked."
As the fund grew, Briant and Tejchman interviewed for jobs in finance. Both used their experience managing the Intrieri fund to distinguish themselves from other candidates.
"I talked about it every time," Tejchman said. "Of all the things on my resume, that was what interested every company I met with. It's so much more than a class, or a research project. It's proof that I can do the work."
Contact
Robb Frederick
Assistant director, news and information, Penn State Behrend