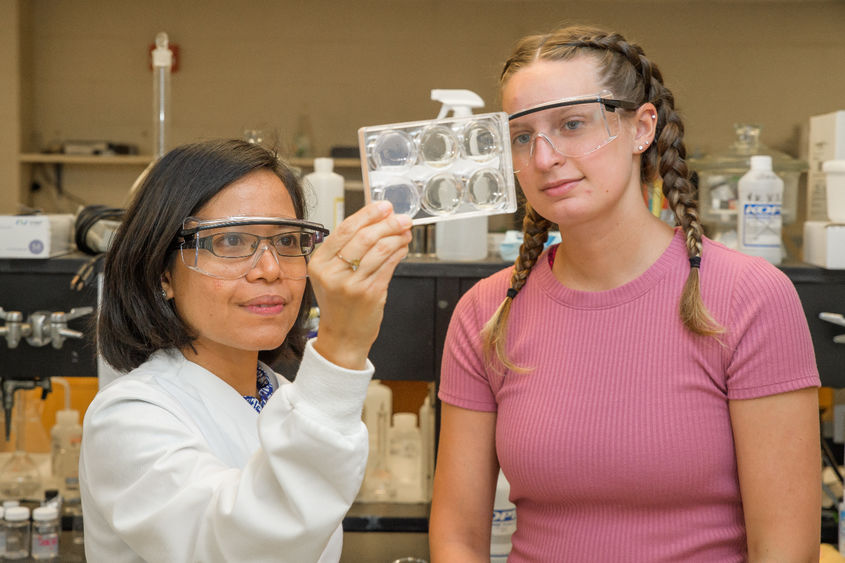 ERIE, Pa. — When Aaron Trail goes into a job interview, there's one thing every potential employer wants to discuss: his research experience with Mary Grace Galinato, an associate professor of chemistry at Penn State Behrend.
"It isn't common for undergraduate students to have that experience," said Trail, who graduated in May with a degree in biology and a minor in chemistry. "It's even rarer for a biology major to have worked in a chemistry research lab."
Galinato received a three-year, $70,000 grant from the American Chemical Society-Petroleum Research Fund to develop an artificial manganese protein catalyst — a mechanism for removing sulfur from petroleum-based substances. At least 40% of those funds are to be used to pay students. Seven Behrend students have participated in the study so far.
Crude oil naturally contains sulfur, which has several adverse effects: It corrodes parts of internal combustion engines, generates pollution and promotes the formation of acid rain.
"We would like to develop an artificial manganese protein catalyst that can effectively remove sulfur from petroleum-based substances," Galinato said. "The catalyst would be eco-friendly, more stable than a traditional water-based protein, and potentially reusable. This can be achieved by encasing the catalyst in a gel material made of silica."
Trail and other student researchers help Galinato by preparing and purifying the artificial proteins. They also create experimental conditions to optimize the proteins' encapsulation.
"It's a great learning experience that is completely different from coursework labs," Trail said. "Sometimes, problems aren't easily fixed, and nobody has an answer. That's when you have to use the skills and knowledge you learned in class to figure them out. Research work really pushes you, and it's probably the most rewarding and enlightening experience I had at Behrend."
Olivia Steinbeck, a junior, is working full-time on the project this summer.
"It is helping me to build my lab skills and learn how to use the different instruments that are available to chemistry students," she said. "It's also giving me the opportunity to learn about biomolecules and how they affect chemical processes."
Most of the student researchers have been chemistry majors, but Galinato said the project is interdisciplinary, not limited to chemistry alone. It encompasses biochemistry, supramolecular chemistry and spectroscopy, and even extends to engineering as well as materials and polymer science.
One student researcher, Caitlin Ostrowski, has an anthropology degree from Penn State. She returned to Behrend as a non-degree student to take a few courses she needs to attend medical school.
"I want students to realize that collaborative efforts across disciplines are sometimes necessary for success," Galinato said. "Research work also helps students apply what they have learned in the classroom and forces them to think critically and discover new concepts."
Steinbeck is enjoying the experience so much that she has made research work her ultimate goal. "I'd like to continue to do research and learn new things about chemistry," she said.
While there are many opportunities for students to work with faculty members on research projects at Behrend, Steinbeck said the key to finding those positions is getting to know your professors.
"Talk to your professors," she said. "Go to their office hours. When they get to know you and your interests and abilities, they can suggest research projects. They want you to succeed."
Galinato is happy to put so many students to work. She's also excited about the potential outcome of the project, and how it might lead to positive change.
"I hope to raise awareness of utilizing environmentally friendly catalysts and provide the scientific community with an alternative means for studying desulfurization reactions," she said. "This research paves the way for generating structurally tunable catalysts that may be employed under different reaction conditions."
Contact
Heather Cass
Publications and design coordinator
Penn State Erie, The Behrend College