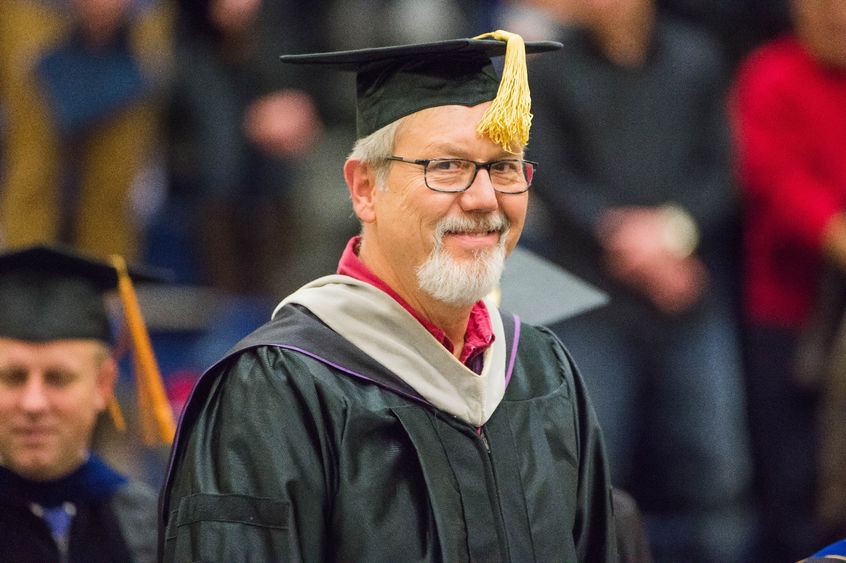 "The only constant in life is change," the Greek philosopher Heraclitus said.
Rod Troester, associate professor emeritus of speech communication at Penn State Behrend, saw plenty of that in his 35-year tenure at the college. Troester, who taught a variety of speech communication classes, including public speaking, retired this year.
"When I started in 1986, there wasn't much on campus above the Niagara and Lawrence residence halls, and nothing on the other side of Jordan Road," he said. "Behrend has doubled in size and developed into an incredibly vibrant place."
Troester's field of study also has undergone tumultuous change, especially in mass media. The fundamentals of communication remain the same, however, he said.
"The basics of forming a message and conveying it have not changed, although the technology and tools we use to do it have," he said. "Where you once might have written an op-ed to reach a lot of people, now you can write a blog post or online article and share it through a half-dozen social medial channels to reach your audience."
We talked with Troester to get his perspective on more than three decades of teaching at Behrend. Excerpts:
The best days at Behrend: Every semester, the best days on campus were the first day of classes and commencement. The energy and excitement were always palpable.
The rewards of his work: We have a Facebook group (Penn State Behrend—Communications Department Alumni) with nearly 350 alumni, and it's really great to share in their successes and see where life takes them.
On the rise of social media: It's helped connect people and given a voice and community to groups that didn't have an easy way to find one another before. That said, many of today's students, who are the most connected ever, also suffer from anxiety and depression. I think some of the anxiety comes from comparing their real lives with what they see online.
On the prevalence of disinformation and the need for editors: In a way, it's self-correcting. As people find ways to spread disinformation, others will find ways to combat it. What we suffer from online is a lack of editors. Anyone can publish anything and spread it. There is a big difference between an editor and a censor, of course. A censor is guided by conduct and morals. An editor is guided by standards, truth and verifiable facts.
Nonprofits are a good place to gain experience: The best internships for communication majors are often with organizations that have no budget to pay them. Students usually are tasked with more work and gain more experience than they might at a large company.
On communication tools: On a trip back from the airport with my son, I watched him working on his laptop, and I thought about how my wife, Judy, and I bought one of the first word processing systems in the 1990s. The advancement in communication tools in my lifetime is stunning.
On polishing your elevator speech: Your education and experience will get you an interview, but soft skills will often get you the job.
There's no "right way" to do life: Students sometimes struggle because they have come up through an educational system where everything has a rubric, so their "failure" or "success" can be easily measured. Real life isn't like that, though, so they have to define the best way for themselves.
Look for him on the lake: I have a 34-foot sailboat, and I plan to spend more time on it. I also serve as a volunteer crew member for the U.S. Brig Niagara and the Lettie G. Howard, educational sailing vessels in Erie. I enjoy going out on the lake and showing people the city and Presque Isle from that vantage point.
Contact
Heather Cass
Publications and design coordinator
Penn State Erie, The Behrend College