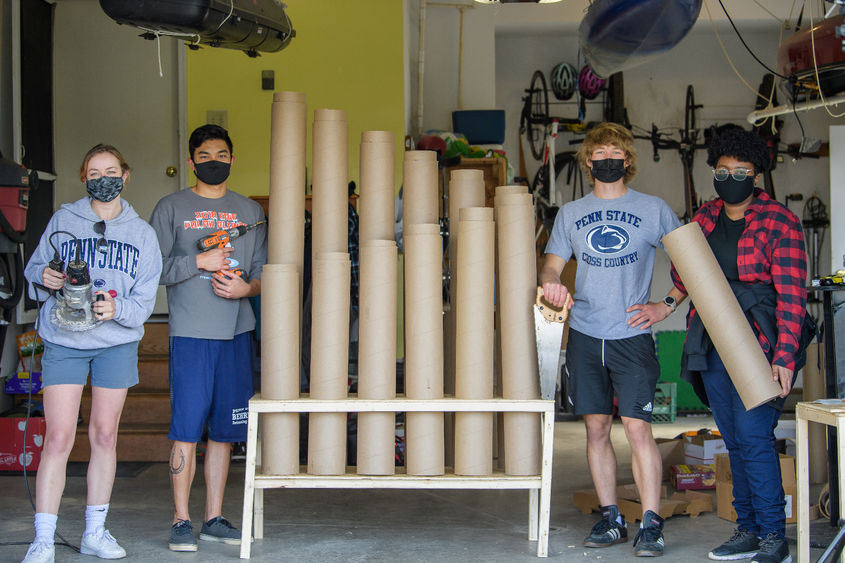 ERIE, Pa. — Penn State Behrend's youth-outreach programs often challenge students to build a vehicle, or a whirligig, or a catapult, from an assortment of everyday items: paper towel tubes, plastic spoons, maybe a spool of yarn.
When Onex, an Erie manufacturing company, offered a truckload of sturdy cardboard tubes to Melanie Ford, director of Youth Education Outreach at the college, she knew what to do.
Ford reached out to Joel Hunt, an associate teaching professor of music and digital media, arts and technology. He thought the material would be perfect for a thongophone.
"When I saw the tubes, I was immediately reminded of the Blue Man Group's performances with a xylophone-like instrument made from PVC pipe," Hunt said. "The instrument, which is known throughout Australia and Papua New Guinea as a thongophone, consists of a series of tubes of varying lengths, similar to that of a pneumatic pipe organ, or a pan flute."
A thongophone player strikes the end of a tube with a rubber clapper, causing vibrations that resonate at a frequency determined by the length and diameter of the tube.
Hunt and Ford assembled a team of students to build a thongophone that can play music from a MIDI file — a sort of digital player-piano. Working with faculty members in Behrend's School of Engineering, they assembled a team of four students: Alex Croll and Deaja Vital, who study computer engineering, and Jake Lehotsky and Mackenzie Sloan, who study electrical engineering. The students built the thongophone as their capstone research project.
The team had a useful advantage: Three of the four members are musicians.
"That helped immensely with some aspects of the project, like picking the right material for the drumheads," Croll said. "Having had experience making music, we knew what to be picky about and what wouldn't have much impact on the thongophone's final sound."
Most capstone engineering teams pair students from the same major. The thongophone team was stronger because of its members' different academic backgrounds.
"I was happy to have Mackenzie and Jake on our team, as I knew this project would take quite a bit of wiring and analog circuitry, which I'm certain they are better at than me," Croll said. "It allowed Deaja and me to focus on the computer aspects of the project, rather than having to juggle both the programming and making sure none of the circuits set the thongophone on fire."
The team cut the tubes, built the base and began the wiring in a workshop at Lehotsky's Erie home. They worked with the materials they had, building a custom instrument that can play 10 notes at once. The largest tube is 10 feet long.
The completed thongophone was installed in a stairwell at Behrend's Kochel Center. It has since been moved to Lilley Library.
Coaxing music from it wasn't an easy task.
"Every time we brainstormed an engineering problem, another would arise," Lehotsky said. "How do you support 48 six-inch-diameter cardboard tubes, ranging from 10 inches to 10 feet? You build four separate chassis. How do you communicate notes between chassis? You run a USB cable. How do you parse a serial transmission from a USB cable? You place a separate computer in each chassis. And so on and so on.
"It's pure engineering," he said. "That's what we live for."
Contact
Heather Cass
Publications and design coordinator
Penn State Erie, The Behrend College