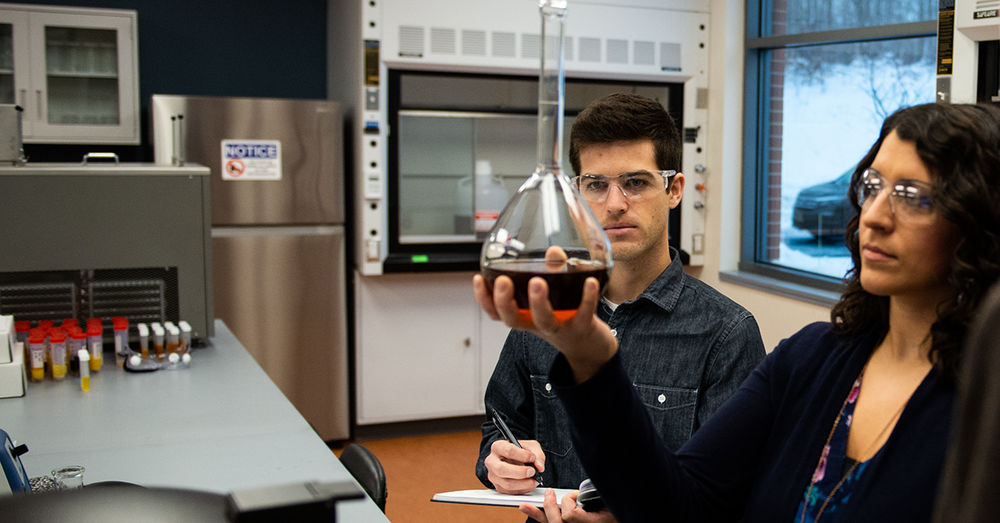 ERIE, Pa. — In every successful science-related organization, whether a laboratory, pharmaceutical company, chemical manufacturer or environmental firm, there's a business office — and a need for people who manage accounts, develop product pricing, market products and monitor supply chains.
Students in Penn State Behrend's new interdisciplinary science and business (ISB) major will prepare to fill those positions by studying both sides of such organizations — the scientific work and day-to-day operations management.
"Science-related businesses often have to spend time getting new employees up to speed on the ins and outs of the more technical aspects of their operation," said Michael Rutter, associate professor of statistics and co-chair of the ISB program. "With the bachelor's degree in ISB, our graduates will already have a foundation in those key scientific concepts, plus have the skills needed to handle the business aspects of their roles."
The ISB major requires specialized courses offered by both the School of Science and the AACSB-accredited Black School of Business. On the science side, students will choose to focus on quantitative science, laboratory science or human health. On the business side, students will select a specialty in accounting and finance, technical sales or operations and supply-chain management.
ISB students will also complete an interdisciplinary capstone project, supervised by faculty members in both the School of Science and the Black School of Business.
"We think of our capstone project like the capstone on an Egyptian pyramid: It is putting the final stone in place," said Diane Parente, professor of management and co-chair of the ISB program. "The ISB capstone helps students put all the pieces of their business and science studies together in place and apply them to a real-world situation."
With the new major, Penn State Behrend now offers 38 bachelor's degrees; four associate degrees; more than 50 certificates and minors, including the new minor in biochemistry and molecular biology; and five graduate degrees.
To learn more about the new interdisciplinary science and business major, visit www.behrend.psu.edu/isb.
Contact
Robb Frederick
Assistant director, news and information, Penn State Behrend