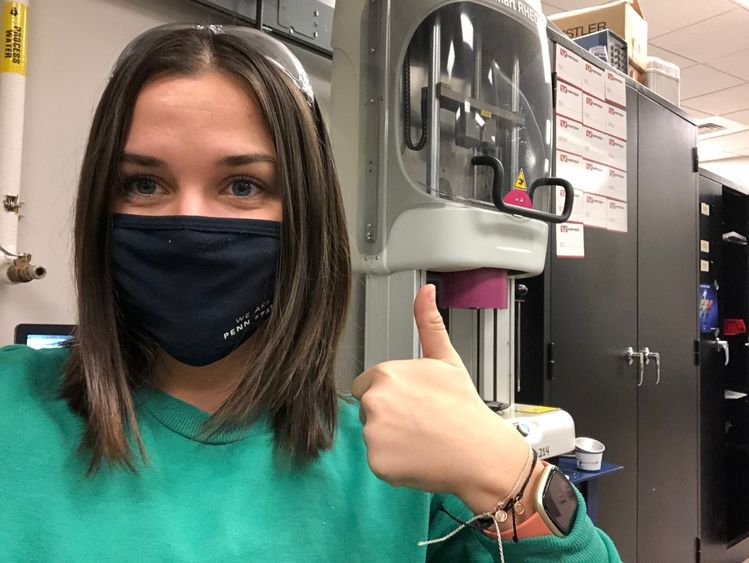 For female students in Penn State Behrend's engineering programs, being in the minority isn't intimidating. It's motivating.
"The first time I had a laboratory class, I was the only woman in the class, and I didn't like it," said Hannah Duncan, a plastics engineering technology major. "I didn't even know how to work a wrench. But having a class with all guys motivated me to work double-time. It pushed me to learn to do things on my own."
Female-focused outreach programs, including Behrend's annual "Women in Engineering" event, which brought more than 100 area students to the college on Nov. 4, encourage local high-school students to explore career options in engineering. Current students help with the program, leading hands-on workshops and mentoring their high-school counterparts.
Here, three Behrend students offer their perspective on studying – and succeeding – in a field that for years was dominated by men.
Hannah Duncan, plastics engineering technology:
"Plastics are never going to go away," Duncan said, "so the field has a great job outlook."
"The classes are hard, though. Plastics is a different world, so it takes a lot of time to get a good grip on some of the concepts. It's a lot of work, but I know it will pay off."
Duncan has contributed to research, which both reinforces her coursework and sets her apart from others who will enter the job market alongside her.
"One of the best parts about Behrend is the opportunity for undergraduate research," she said. "I have learned so much more than I thought I would from doing research. It makes you think and apply the concepts you're learning in class, which helps you understand the 'how' and 'why.'"
Alexis Rimpa, industrial engineering:
"I always enjoyed math and science, and I knew I wanted to work in an application-based field more than a theory-based one," Rimpa said. "After talking to several faculty members and reviewing the recommended action plans for some of the engineering majors at Behrend, I landed on IE. I love statistics and optimizing processes, so IE was the perfect fit for me."
Rimpa plans to begin her career in the rail and transit manufacturing industries. Her advice to other female students is pretty straightforward:
"Don't let 'no' deter you," she said. "Go after the things that spark your passion."
Marti Mandella, plastics engineering technology:
"When people think of plastics engineering, they think of bottles," Mandella said. "I did, too, at first, but now I love explaining the depth and reach of what we do."
Mandella enrolled at Behrend after meeting with engineering graduates at a high school career fair. She has thrived at the college, both in her engineering courses and through the Studio Theatre, where she has performed in musicals and served as a stage manager.
"My big-picture goal is to make things for people that make life easier," she said. "Something tangible that helps humans or the world around us. Specifically, I want to work in design and human factors. I love modeling, prototyping and seeing an idea come to life."
Her advice to other female students? Believe in yourself. And get to work.
"Confidence is key," she said. "You're capable of anything if you work for it and trust yourself."
Contact
Heather Cass
Publications and design coordinator
Penn State Erie, The Behrend College