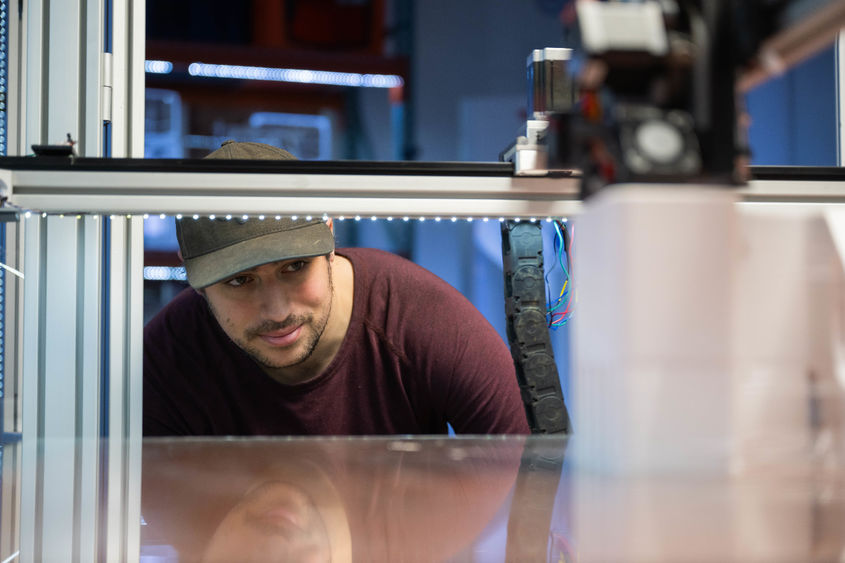 ERIE, Pa. — A new $2.13 million endowment will expand Penn State Behrend's Innovation Commons, a product design and prototyping lab and the first site for the Northwest Pennsylvania Innovation Beehive Network, a partnership of institutions in the Erie region. The endowment will provide funding support for the lab, which offers early-stage product design, computer-aided drafting, no-cost 3D printing and Industry 4.0 training, among other services.
The lab, which opened in 2016, has supported more than 240 projects for local entrepreneurs, startups and community groups. That work has led to 14 new companies and 12 patent applications.
"Innovation Commons is the embodiment of our Open Lab approach to engaging students with businesses and innovators as part of the undergraduate experience," said Amy Bridger, senior director of corporate strategy and external engagement at Behrend. "Through the Open Lab model, students apply classroom learning to product design challenges that lead to economic growth for regional businesses and entrepreneurs."
The endowment was created through an array of private and corporate gifts with a combined value of more than $1.06 million. Those gifts have been matched 1:1 by Penn State's LaunchBox Matching Program, bringing the total endowment to $2.13 million.
In recognition of the largest of the gifts, made by a private donor, the lab will be named the James R. Meehl Innovation Commons powered by Penn State Behrend. The Meehl family has had a strong association with Behrend faculty, programs and athletics that began when James Meehl's grandson, Aaron Meehl, a 2012 graduate, first enrolled as a student more than a decade ago.
"We are deeply appreciative of the private and corporate gifts that established this endowment, which will enhance the services offered at Innovation Commons and expand opportunities to even more startup companies," Chancellor Ralph Ford said.
The James R. Meehl Innovation Commons is part of the Invent Penn State network, which has created 21 innovation spaces that offer coworking, accelerator programs and access to experts and mentors across the commonwealth.
The lab also is part of the Northwest Pennsylvania Innovation Beehive Network, a partnership with Edinboro, Gannon and Mercyhurst universities and the Blasco Library Idea Lab. By coordinating institutional resources and offering expertise at every stage of the product development process, the Beehive network provides a comprehensive business support system with multiple points of entry for entrepreneurs.
Gifts to the new endowment will advance "A Greater Penn State for 21st Century Excellence," a focused campaign that seeks to elevate Penn State's position as a leading public university in a world defined by rapid change and global connections. With the support of alumni and friends, "A Greater Penn State" seeks to fulfill the three key imperatives of a 21st-century public university: keeping the doors to higher education open to hardworking students regardless of financial well-being; creating transformative experiences that go beyond the classroom; and impacting the world by serving communities and fueling discovery, innovation and entrepreneurship.
Gifts to support select economic development initiatives across the commonwealth are a priority of the campaign, and two opportunities to leverage University funds – the LaunchBox Matching Program and the Economic Development Matching Program – are available through the end of "A Greater Penn State" on June 30, 2022, or until the pool of support is exhausted. To learn more about how to make a gift and secure a match, contact Heather Winfield at [email protected] Information about the campaign is available at greaterpennstate.psu.edu.
Contact
Robb Frederick
Assistant director, news and information, Penn State Behrend