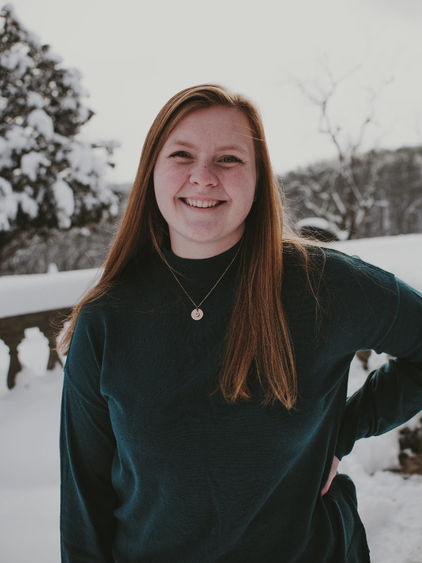 ERIE, Pa. — Jennifer Gustafson, a senior majoring in mechanical engineering at Penn State Behrend, has been named recipient of the 2022 Ralph Dorn Hetzel Memorial Award. 
Named for Penn State's 10th president, the Hetzel Award recognizes a combination of high scholastic attainment together with good citizenship and participation and leadership in student activities. 
In her role as second-year president of Behrend Benefiting THON, nominators said, Gustafson was able to adapt the organization to fulfill its commitment to fundraising and supporting families grappling with pediatric cancer. Nominators said Gustafson found ways to succeed despite challenges COVID-19 placed on her recruitment and fundraising. 
"This demonstrates nuanced and mature leadership not often seen by University students; mitigating peer expectations, providing realistic goals, and brainstorming new and unorthodox tactics while encouraging continued enthusiasm, passion and productivity is no small feat for any leader," a nominator said. "It should be noted that she leads not for herself or the esteem of the position, but truly 'for the kids' THON strives to aid." 
Behrend Benefiting THON surpassed its goal in both 2020 and 2021. Gustafson executed one of the only live campus events in 2020, the dance marathon "Adventuring Beyond Horizons," which raised nearly $7,000. In 2021, she helped restore the organization to pre-pandemic levels, raising more than $21,000. These on-campus pre-THON events added to the campus total, which was more than $38,000 this year. 
Gustafson is also a leader in at least 10 other organizations and programs on campus. She's president of the Penn State Behrend Lion Ambassadors who are tasked with helping students, alumni and friends of the University continue to actively engage Penn State and its students. In that role, she also works to create connections on campus between organizations, as well as the different departments, schools, and faculty and staff. 
"One characteristic we've always appreciated about Jen is her ability to ask excellent questions, often speaking for the group when others might be uncomfortable with voicing delicate or sensitive opinions," a nominator said. "Her passion for the community she is serving is matched by her empathy for those she serves alongside, generating conversations and building relationships with those served, and with those she is serving."