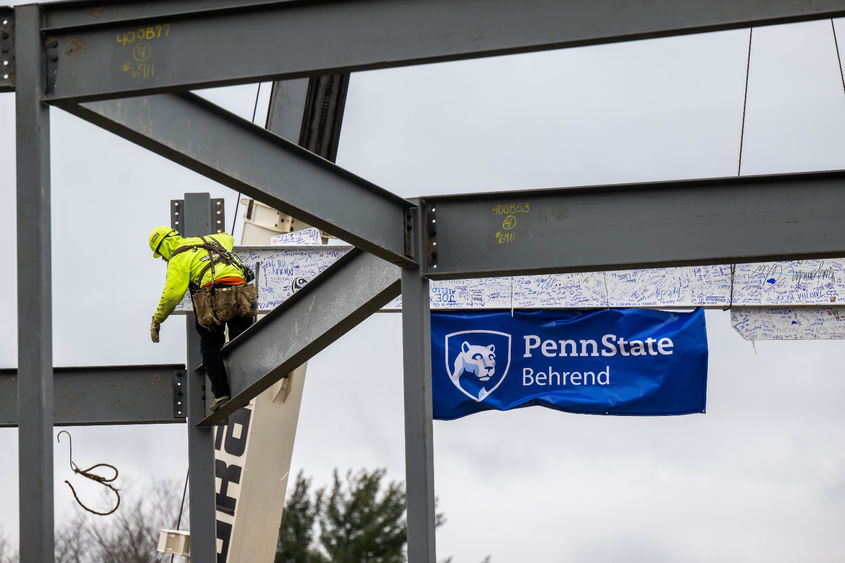 ERIE, Pa. — Penn State Behrend's new Erie Hall, a $28.2 million fitness and recreation center, continues to take shape: On March 23, the college celebrated the "topping off" of the new building as a 1,200-pound beam, signed by hundreds of Behrend students, faculty and staff, was set into place.
A topping-off ceremony typically marks the moment a new building reaches its final height.
"It's a milestone in the construction cycle," said Ken Miller, senior director of administration and student affairs. "At that point, you really start to have a sense of place for the building and how it fits in the site."
The original Erie Hall opened in 1952 — before Behrend offered four-year degrees. It served as a gymnasium, a dance hall and a campaign backdrop for former President Bill Clinton, who visited Behrend in 2016.
The new building will nearly triple the size of the original Erie Hall. It will include a three-court gymnasium, training rooms, studio space and support facilities for the college's NCAA athletics teams. The building also will expand Behrend's wellness programs: The Personal Counseling office will use the new space to offer workshops related to anxiety reduction, stress management, nutrition and healthy-living strategies.
Nearly 40% of the funding for the project came from Behrend students, who committed more than $10 million from the Student Initiated Fee.
The signatures on the 32-foot, 1,200-pound beam celebrate the students' support for the project, Miller said.
"We wanted students to be part of this," he said. "It's their building, and it's taking shape because of their commitment to the project. They saw the need, stepped up and made it happen."
Contact
Robb Frederick
Assistant director, news and information, Penn State Behrend