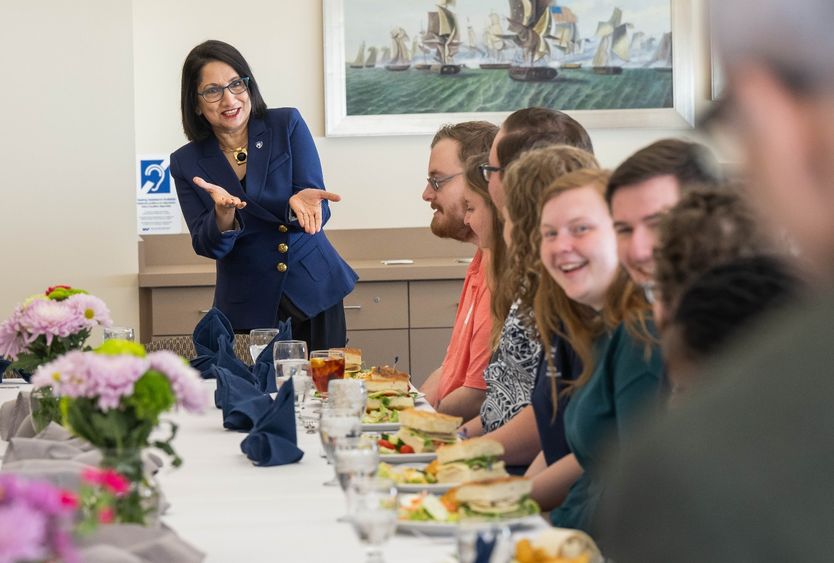 Editor's note: This spring, Penn State President-elect Neeli Bendapudi is traveling the commonwealth as part of a listening and learning tour to meet and engage in conversation with students, faculty, staff and community members at each Penn State campus.
ERIE, Pa. — Penn State President-elect Neeli Bendapudi visited Penn State Behrend on March 29 as part of her listening tour to meet with students, faculty and staff across Penn State's campuses. During the visit, she discussed enrollment projections, the college's Open Lab approach to learning, and the value of entrepreneurial thinking.
"We need to ask, start to finish, how we can help students make the most of their college experience," she said. "When they leave here, what do they know that they didn't know before? What have they done that they hadn't done before? How have they changed?"
Bendapudi met with faculty and staff during a town hall-style program in McGarvey Commons. She met with a group of 20 students during a luncheon program in Dobbins Dining Hall.
Bendapudi will begin her tenure as Penn State's 19th president on May 9. She previously served as president of the University of Louisville and as provost and executive vice chancellor at the University of Kansas. In addition to her nearly 30-year career in academia, she was the executive vice president and chief customer officer for Huntington National Bank. She earned her bachelor's degree in English and an MBA from Andhra University in India and holds a doctorate in marketing from the University of Kansas.
Contact
Robb Frederick
Assistant director, news and information, Penn State Behrend