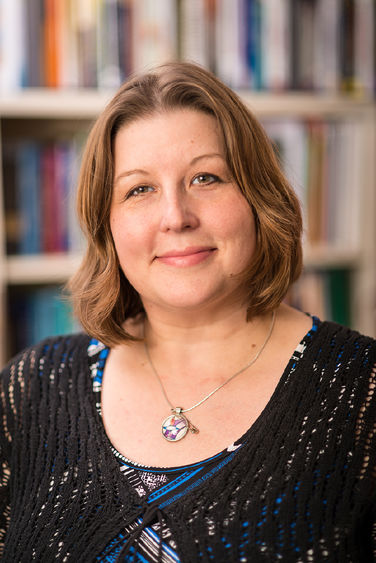 UNIVERSITY PARK, Pa. — Melanie D. Hetzel-Riggin, professor of psychology at Penn State Behrend, has received the 2022 Faculty Outreach Award. 
The award honors faculty who have positively and substantially affected individuals, organizations or communities through problem solving or development as a result of extending their scholarship. 
Hetzel-Riggin is an educator whose teaching interests include introductory psychology, personality and adjustment, abnormal psychology, trauma and crisis, clinical psychology, career counseling, and ethics and multiculturalism. She is being awarded for extensive outreach efforts to the Erie County community for a wide range of social services, nominators said. 
"Hetzel-Riggin is a valuable member of the professional community in the region and across the state, and she somehow finds the time to be involved in nearly every regional initiative involving evidence-based practice for children and families or survivors of traumatic stress," a nominator said. "She is exceptionally passionate about her dedication to evidence-based practice and dissemination, and our community is incredibly fortunate that she shares her passions outside of her professional role at Penn State."  
Hetzel-Riggin serves as an executive board member for the Erie Coalition for a Trauma Informed Community. There, she spearheaded the development of a trauma resource guide for community members, developed and maintained a comprehensive webpage for trauma-related resources and coordinated the coalition's blog.  
She is a certified trainer of Substance Abuse and Mental Health Services Administration's trauma-informed criminal justice training. She's trained more than 600 educators, mental health providers, law enforcement members, and community members in trauma-informed practices.  
Hetzel-Riggin fills vital roles for multiple domestic violence and sexual assault prevention groups in the region. She is a member of the Domestic Violence Action Alliance and Rural Domestic Violence Task Force. One area where she had an impact for these coalitions is reporting on the scope and causes of domestic violence in Erie County.  
She assisted in a county program to improve responses and coordination of services for domestic violence, dating violence, sexual assault and stalking survivors. 
Hetzel-Riggin works with the domestic violence agency Safe Journey to develop a community-based education and bystander intervention program. Her efforts resulted in the training of more than 500 members of the community on how to recognize and respond to domestic violence. The social media prevention campaign associated with the training had 7,000 website impressions and 24,300 print impressions, while accompanying billboard signs were seen by most county residents, nominators said. 
She helped Safe Journey secure a $750,000 Office of Violence Against Women grant to reduce domestic violence, dating violence and sexual abuse in children and families. This benefited about 750 victims and their families while training 2,000 youth, educators and other school personnel. She assisted on another grant of more than $400,000, which helped the agency offer domestic violence services to those especially in need. 
Hetzel-Riggin also serves on the Suicide Prevention Task Force and BIPOC Mental Health Committee in the county. She helps staff at UPMC Women's Recovery Center better serve women and children addicted to opioids.  
As a faculty affiliate for the Susan Hirt Hagen Center for Community Outreach, Research, and Evaluation (CORE) at Penn State Behrend, Hetzel-Riggin is dedicated to reducing community violence. Most notable, she worked in 2017 with UnifiedErie stakeholders on a plan that led to a significant reduction in gun violence in the county. 
A nominator who worked closely with Hetzel-Riggin on domestic violence issues called Hetzel-Riggin a true asset to her community. 
"Through the few times of meeting Melanie, I knew she was the individual who could elevate domestic violence prevention and intervention within our community," a nominator said. "Melanie has shown her commitment to this community, and she continues to elevate domestic violence reduction initiatives in our community from her continued involvement, training, grant writing, evaluation, research and collaborations."