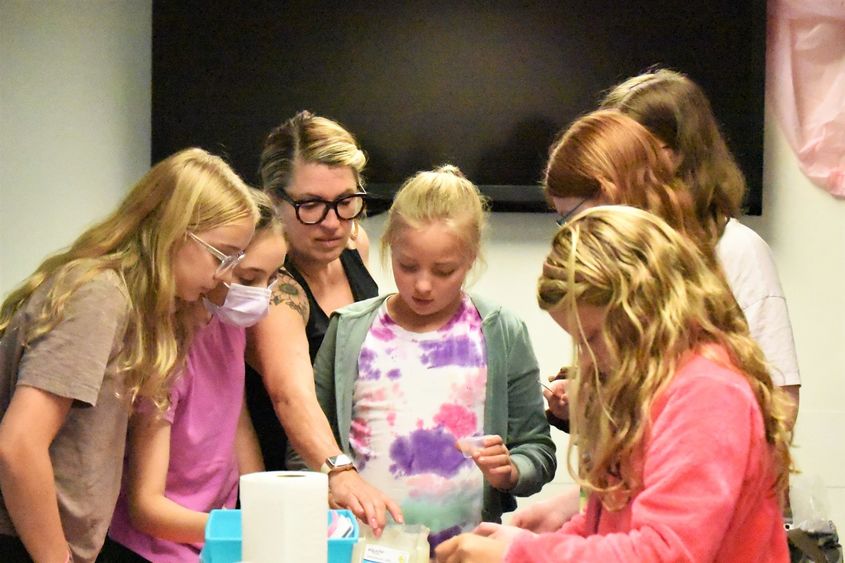 ERIE, Pa. — Summer school doesn't have to be a slog. In Melissa Weismiller's class, for example, Fridays are "spa days," with homemade lip balms and body sprays.
Weismiller teaches at Penn State Behrend's College for Kids, a summer enrichment program for youth ages 6 to 14. Her "Girls Just Wanna Have Fun" class plays out with an '80s soundtrack, including Cyndi Lauper's anthem. While they sing along, the girls fashion funky flip-flops, make custom-scented body sprays and design delicate fairy gardens with succulents in small globes.
"It's fun to explore your creative side," said Peyton Vergotz, a 10-year-old from Erie. "I think maybe making the body spray I liked best."
Alessa Pastuha liked making lip balms.
"I love using spa products at home, and I also like to do hair and nails," said Pastuha, a 10-year-old from Ohio. "I liked putting all the ingredients together and having fun with my friends."
Weismiller has taught the class for 10 years. She aims to incorporate something different every year; this year, she added a spa day.
"It's fun, and I think it can be a lifelong activity," she said. "I try to get them thinking more about which products are natural."
Weismiller also wove in a lesson about self-care: She taught basic yoga moves and relaxation techniques, dimming the lights and switching to softer, more subdued music.
"Kids sometimes have a hard time relaxing and doing nothing," she said.
The girls responded well to the idea of slowing down. Weismiller heard some of them repeat the breathing exercises later in the week, as they worked on other projects.
"Yoga was interesting," said Alyx Dalton, 10, of Erie. "It's very calming and relaxing, and she gave us one exercise that wrapped up all the stuff you want to feel — calm, alone, safe, quiet — and it just relaxed you. I almost fell asleep."
Weismiller hopes the benefits of learning to relax in a world of sensory overload will stay with her young students.
"I want to instill some good, positive things," she said, "but I also really want them to have fun."
Contact
Robb Frederick
Assistant director, news and information, Penn State Behrend