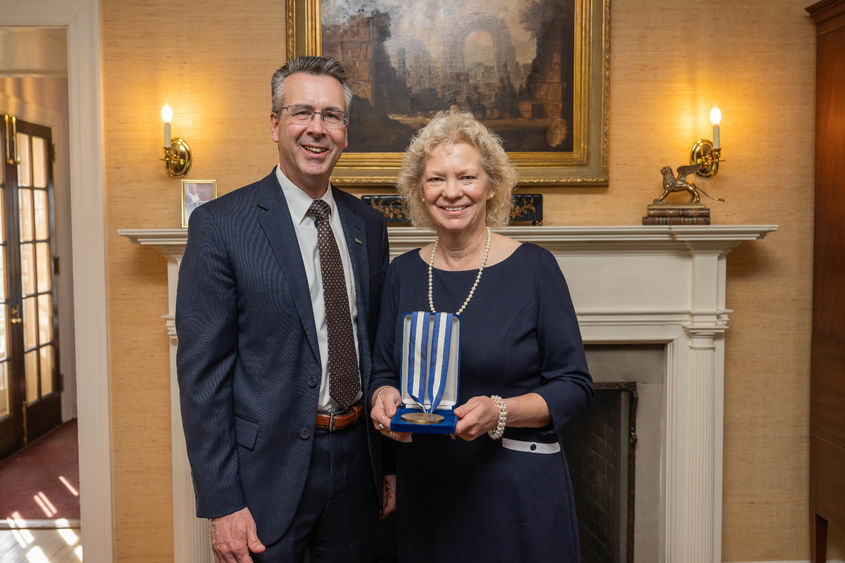 ERIE, Pa. — Penn State Behrend has presented the Behrend Medallion, the college's highest award, to Nancy Anderson, vice president and chief information officer for GE. She leads the company's Digital Technology organization, with infrastructure and applications around the world.
The Behrend Medallion is given to individuals who, by their service to society, have brought honor to their profession, their community and themselves.
Anderson, a resident of North East, Pennsylvania, previously served as CIO of GE Power and GE Transportation. She first joined GE's Computer Management Program in 1984, after graduating from Alfred University with a bachelor's degree in accounting.
She earned an MBA from Penn State Behrend in 1997.
Anderson has long been a supporter of the GE Women's Network, which offers professional development and mentoring activities that advance the role of women in the workplace. She was an early champion of the program then known as GE Girls at Penn State Behrend — a weeklong STEM camp that encouraged middle-school girls to explore technical fields.
She served as GE's Penn State executive for more than five years. During that period, the company sponsored more than $11 million in projects with Penn State. In 2013, she was named an Alumni Fellow — the most prestigious honor bestowed by the Penn State Alumni Association.
In 2017, Anderson created a Trustee Matching Scholarship for Behrend students who have demonstrated financial need. Graduates of North East High School are given first preference.
"Nancy Anderson exemplifies our vision of what a Behrend graduate can be," Chancellor Ralph Ford said. "She is a first-generation college student who has gone on to succeed in a highly competitive, global field. She serves as a role model for women in technology, and she demonstrates genuine care and concern for others on both personal and professional levels. It is a privilege to present her with the Behrend Medallion."
The Behrend Medallion has been awarded just 22 times since the college was founded in 1948. Previous recipients include Thomas B. Hagen, chairman of the board of Erie Indemnity Company, and the late Joseph Prischak and his wife Isabel, Erie-area business owners and philanthropists.
Contact
Robb Frederick
Assistant director, news and information, Penn State Behrend