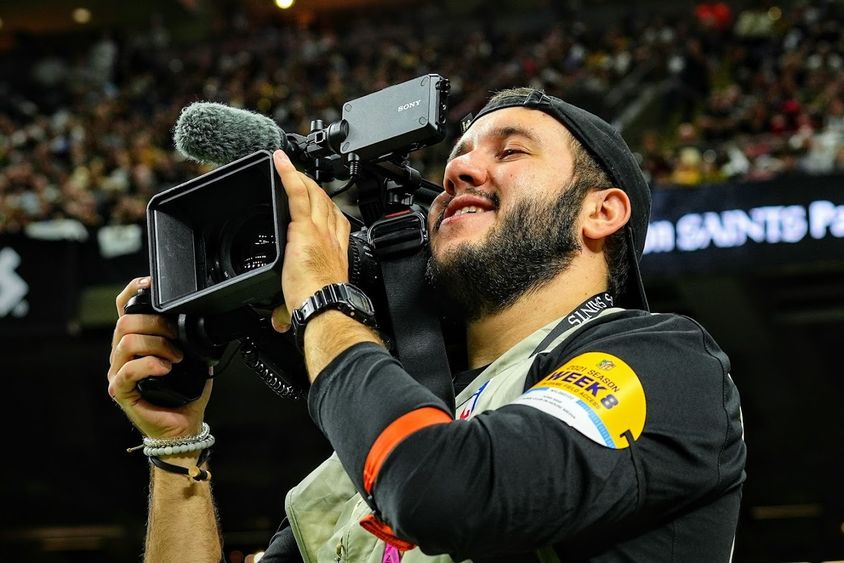 ERIE, Pa. — Josh Sige was on the sideline at the Caesers Superdome, camera in hand, when he noticed he was standing next to Sean Payton, then the head coach of the New Orleans Saints.
"That's when I knew I had made it to the big leagues," said Sige, a 2021 graduate of Penn State Behrend.
He got there pretty fast. Sige earned a degree in digital media, arts and technology and quickly worked his way up the pro sports ladder. He shot game film and digital content for developmental leagues, and then for the WNBA's Seattle Storm, before scoring a position with the Saints and the Pelicans, the New Orleans NBA team.
He produces video and photo packages and graphics for in-arena viewing. He also creates digital content for both teams' social media feeds.
During the season, those roles sometimes require him to work as many as 70 hours a week.
"It is an insane amount of work for our 15-member team, but it's all worth it when that crowd, 70,000 strong, stands up and cheers for your team after watching the video you created on the scoreboard," Sige said. "Although we are not on the court or in the field playing the game, fans are cheering for our work and the show we put on screen for them. It's really cool."
Sige feels fortunate to have found his creative passion early on, during an internship with the Erie SeaWolves, the AA baseball team in Erie. From there, he sought opportunities to grow in his field, and he used his Behrend connections to open new doors.
Matt Bresee, a 2000 Behrend graduate and former president of the Erie BayHawks, offered Sige a job working on the team's creative and social media platforms.
"I was given the chance, as a college student, to actually help make creative decisions for the team while also learning the ins and outs of professional sports," Sige said. "The experience I gained there, at the very beginning stage of my career, was crucial to my development."
He also credits Rob Frank, a lecturer in photography at Behrend and the owner of R. Frank Media in Erie, with guiding and supporting him.
"He gave me a world of experience and knowledge," Sige said. "He not only taught me camera skills, but also how to conduct myself as a professional and a person. I wouldn't be where I am today if not for him."
Sige already is paying that goodwill forward.
"One of my proudest moments happened when an intern who was working for me received multiple full-time job offers before his contract had even expired," he said. "It felt great to play a role in his success in the same way that other people had invested in me and my career."
Contact
Heather Cass
Publications and design coordinator
Penn State Erie, The Behrend College