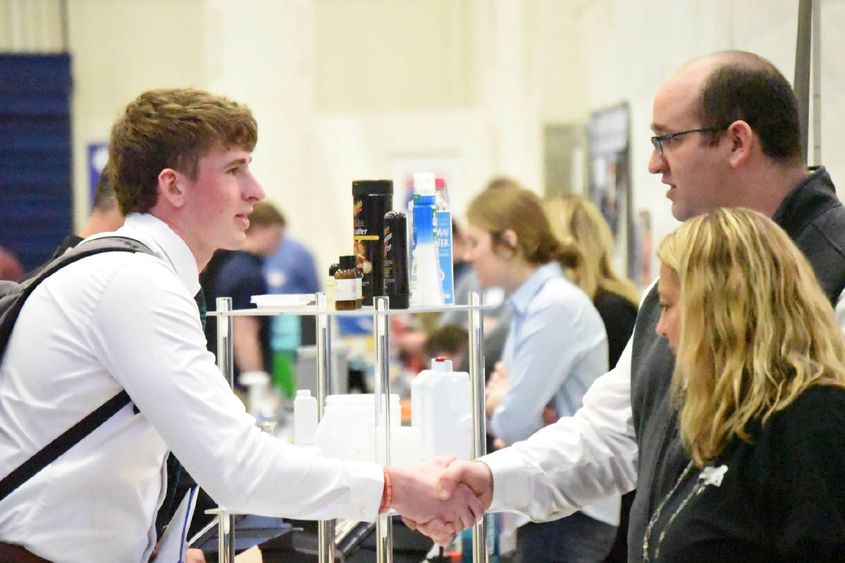 ERIE, Pa. — Penn State Behrend's fall Career and Internship Fair will feature more than 160 companies, including Toyota, ExxonMobil, Bausch & Lomb and U.S. Steel. The Sept. 21 program, which begins at 11 a.m. in Junker Center, is open to all students at any college in Erie County.
"We're back to our pre-pandemic numbers," said Lauri Enterline, associate director of career services at Behrend. "Companies are hiring, and they're really enthusiastic about being back on campus, and in-person."
The need for new employees is 30% higher than in 2021, according to the National Association of Colleges and Employers. The need for interns also has increased.
"These companies need graduates from all majors," said Michelle Hartmann, interim associate director of corporate engagement at Behrend. "A health care company, for example, will always need nurses, but they also rely on accountants, marketing experts and human resources teams."
To stand apart from other candidates, students should follow these three strategies at the career fair, Hartmann and Enterline said:
Be prepared. Have an elevator pitch, and practice it. Research the companies that interest you, and be ready to ask questions.
"This is an opportunity to get in front of companies, even if they aren't actively recruiting for your skill set," Enterline said. "Smile, introduce yourself, and briefly highlight any experience you have that sets you apart.
"If a recruiter isn't hiring for your major, use that interaction as practice," she said. "Ask, 'What are you looking for in an intern?' or, 'How can I prepare myself to be competitive?'"
Don't wait until your junior or senior year. "If you start this process in your junior year, you're already behind," Enterline said. "More and more companies are hiring first-year students for internships. That allows you to stack your experiences while determining what is important to you, in terms of a company's 'fit.'"
In addition to internships, Open Lab projects and undergraduate research collaborations can help students separate from the crowd.
"Any experience you can get as a freshman will give you an advantage," Hartmann said.
Be confident. "Networking is a conversation," Enterline said. "Get comfortable talking about yourself. Lean in. Be curious. Try to learn something about the company."
Employers often know within the first minute of a conversation if a candidate merits a closer look. With practice, Enterline said, students can evaluate companies the same way.
"If there isn't a connection, thank them and move on," she said. "All it cost you was a handshake and a few minutes of conversation.
"Every one of these interactions can have value," she said. "Maybe you refine your elevator pitch. Maybe you get more comfortable talking about your skills. Or maybe you get an offer."
Contact
Robb Frederick
Assistant director, news and information, Penn State Behrend