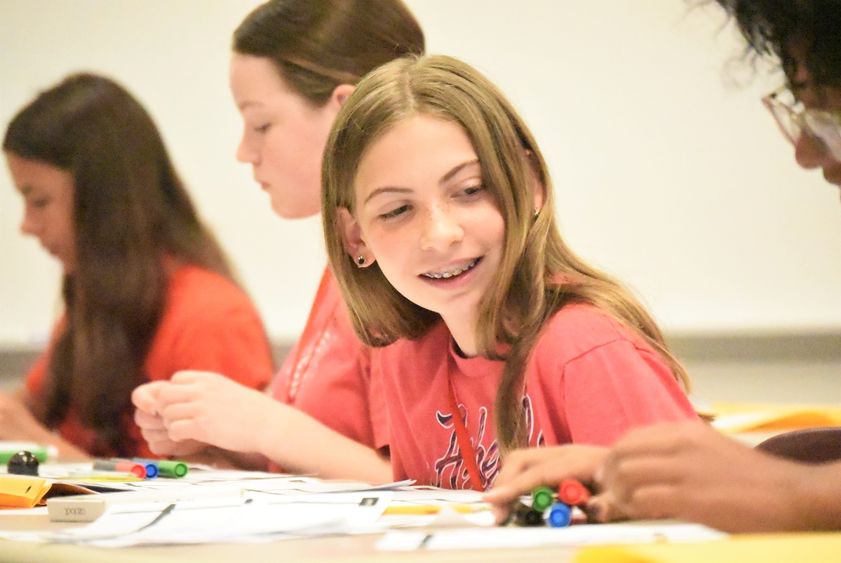 ERIE, Pa. — Back in 2016, when she first attended the GE Girls STEAM camp at Penn State Behrend, Ellie Shade painted Shrinky Dinks and made her own flavored lip balm.
"It definitely influenced me," she said. "It showed me how fun the STEAM fields can be."
Shade attended the camp again this summer, this time as a college volunteer. She helped lead 50 middle-school students through a week of hands-on STEAM workshops, including the lip balm module, introducing the fundamentals of design, electronics, chemistry, structures and energy. She worked alongside Behrend faculty members and female mentors from Wabtec Corp.
"It was kind of cool to help them with an activity I did as a camper," she said. "These girls are so excited for every activity, and it's cool to see them problem-solve."
The hands-on aspect was nearly lost during the COVID pandemic, until the coordinators of the camp, a partnership of Wabtec and the college's office of Youth Education Outreach, did some problem-solving of their own: They mailed STEAM activity kits to each student, who then dialed in to virtual presentations.
This year, students at the camp — now known as Wabtec Girls Who STEAM — made slime and rolled marbles through makeshift roller coasters, which were cut from foam pipe insulators. They also programmed robots to do dance moves.
Sparrow Magill, 13, participated in the virtual camp. She returned this year, excited to work in-person with her peers.
"This year, it's more fun," she said. "I've made a ton of new friends."
Naomi Baker, also 13, learned basic programming. She's a student at Erie Cyber Academy.
"There are a lot of careers in engineering that I didn't know about," she said. "I think I'd enjoy them."
That "light-bulb" moment — when a girl grasps how a math or science concept directly affects her daily life — is the goal for Kerry Hamilton, a human resources manager at Wabtec.
"The real value is seeing these girls go out into the community and continue to explore this," she said. "To see Ellie here, and helping, that gives me chills."
Contact
Robb Frederick
Assistant director, news and information, Penn State Behrend