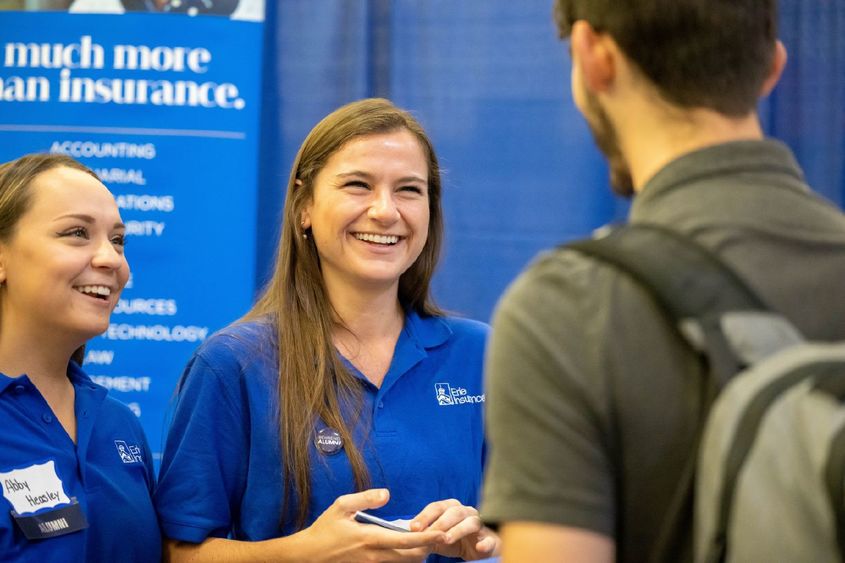 ERIE, Pa. — More than 1,100 students attended Penn State Behrend's fall Career and Internship Fair on Sept. 21. They met with recruiters from more than 160 companies, including Toyota, ExxonMobil and Bausch & Lomb.
A week later, 20 companies participated in Behrend's virtual career fair: a chat-based program hosted on the Nittany Lion Careers' platform.
"The virtual format is not going away," said Lauri Enterline, associate director of career services at Penn State Behrend. "It's convenient, especially for national companies. They're able to connect with our students without having to travel."
As the pandemic eases, however, more companies are returning to in-person career fairs, where students test their elevator pitches. For many at Behrend, where the Open Lab approach to learning includes sponsored research projects and community partnerships, there are more options this year: The need for new employees is 30% higher than in 2021, according to the National Association of Colleges and Employers.
"Companies absolutely are hiring right now," said Michelle Hartmann, interim associate director of corporate engagement at Behrend, "and they need graduates from all majors. A health care company, for example, will always need nurses, but they also rely on accountants, marketing experts and human resources teams. That's a good trend for our students, and for our new graduates. It gives them a lot of options."
Contact
Robb Frederick
Assistant director, news and information, Penn State Behrend