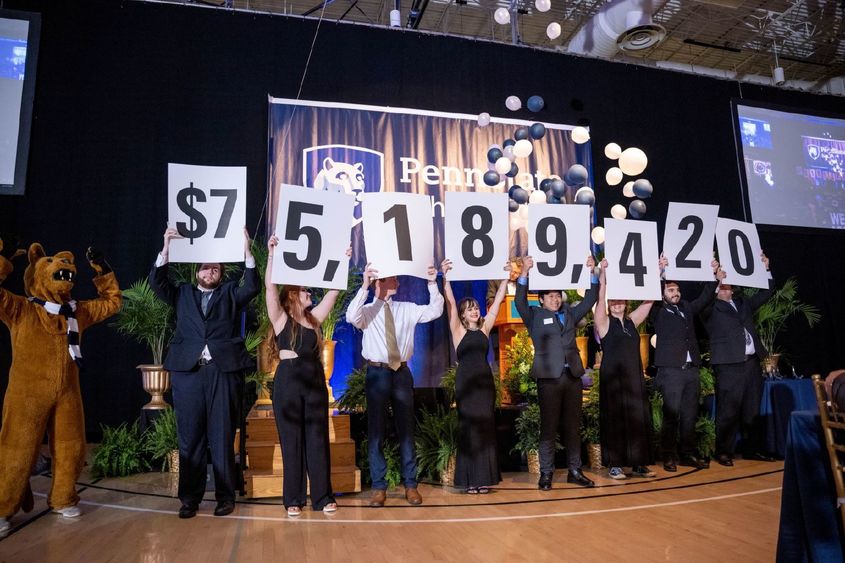 ERIE, Pa. — At the conclusion of the University's six-year fundraising effort, "A Greater Penn State for 21st Century Excellence," Penn State Behrend had much to celebrate: The college had raised more than $75 million — an amount well above the original Behrend campaign goal of $52 million.
More than 4,500 individuals and organizations had made gifts in support of Penn State Behrend's priorities.
"Nearly 75 years ago, the generosity that helped define the Behrend student experience began with one individual, Mary Behrend," Chancellor Ralph Ford said. "That spirit of giving continues with the collective support of friends and partners, contributing the resources that make it possible for us to deliver excellence in education, research and outreach."
The campaign, which began in 2016, was focused on three key imperatives: keeping the doors to higher education open to hardworking students regardless of financial well-being; creating transformative experiences that go beyond the classroom; and impacting the world by serving communities and fueling discovery, innovation and entrepreneurship.
In each of those areas, the Behrend effort in the campaign surpassed expectations:
Donors established 54 new scholarships, which now generate $1.4 million in new aid every year.
Many of the new scholarships leveraged University matching funds to maximize the impact of donor support. Several, including scholarships created by Nishi Gupta, class of 1982; Ann Scott class of 1999 and 1982; Thad Scott, class of 1983; and Sam Epps IV, class of 1995, and his wife, Zabrina, specifically support students from underrepresented populations.
Other scholarships provide funding for students who have demonstrated financial need, including students in Behrend's Pathways to Success Summer Start program. Others support adult learners, students in the nursing program and women in engineering majors.
Several gifts created innovative learning experiences that engage students outside of the classroom.
The Intrieri Family Student Managed Fund, launched by alumnus Vincent Intrieri, class of 1984, and his wife, Joanne, gives students real money to invest in the stock market. The fund, which has grown to more than $1 million, raises the stakes for student investors: Any money they lose diminishes the fund. Additional support for the fund, including new gifts from the Intrieris, and from Samuel P. "Pat" Black III, have made it possible for the fund to pay out scholarships for student managers.
In the James R. Meehl Innovation Commons, a rapid-prototyping and design lab, students work with inventors to test and refine new products. Students have contributed to more than 240 projects, including rubber dog toys, soft-fit medical stirrups and a COVID-19 mental health app. Their work has led to 12 patent applications and 14 startup companies.
A $1 million investment by Erie-based HERO BX created a new, 1,500-square-foot chemistry lab in the Advanced Manufacturing and Innovation Center, where students are working alongside company researchers to reduce the sulfur in biodiesel feedstocks. The end goal of their work is to develop a biodiesel that can be efficient in cold-temperature applications, including commercial aviation.
Other initiatives have built on Behrend's Open Lab model of learning, where students partner with companies and nonprofit organizations to boost innovation and entrepreneurship in the local community.
With a grant from The Erie Community Foundation and additional funding from supporters of the college, Behrend became the academic and translational research partner for the new Magee-Women's Research Institute of Erie. The $26 million initiative has brought locally focused clinical medical research trials to the region, with a specific focus at Behrend on maternal health and the movement of cancer cells within the body.
A $6.3 million project enabled the college to renovate and expand the historic Federal House, creating a new home for the Susan Hirt Hagen Center for Community Outreach, Research and Evaluation. CORE provides programming to more than 3,000 at-risk youth every year.
A gift from Larson Texts added momentum to The Mirror Project, which will encourage students from underrepresented communities to teach in their hometowns. The program will cover the full cost of tuition for Behrend students who major in elementary and early childhood education.
"Teachers who look like their students serve as role models and mentors and help students learn and dream higher," said Eric Corty, the retired director of the School of Humanities and Social Sciences, and the originator of the project.
A $1.5 million gift from Erie Insurance, Penn State's 2020 Corporate Partner of the Year, has provided scholarships and paid internships for students from diverse communities. The gift, which was matched with $2.5 million in University funding, created a program known as Excelerate. The initiative provides scholarships, stipends and co-op opportunities to as many as 50 students every year.
Many smaller gifts broadened the impact of the campaign at Penn State Behrend, creating scholarships and supporting academics, innovation, outreach and service efforts.
"Every donor makes a gift that is significant and meaningful to them," said Kevin Moore, director of development and alumni relations at the college. "Every gift matters to our students, no matter how big or how small."
With the record-breaking success of "A Greater Penn State for 21st Century Excellence," which raised $2.2 billion from 2016 to 2022, philanthropy is helping to sustain the University's mission of education, research and service to communities across the commonwealth and around the globe. Scholarships enable Penn State to open doors and welcome students from every background, support for transformative experiences allows students and faculty to fulfill their vast potential for leadership, and gifts toward discovery and excellence help serve and impact the world. To learn more about the impact of giving and the continuing need for support, please visit raise.psu.edu.
Contact
Robb Frederick
Assistant director, news and information, Penn State Behrend