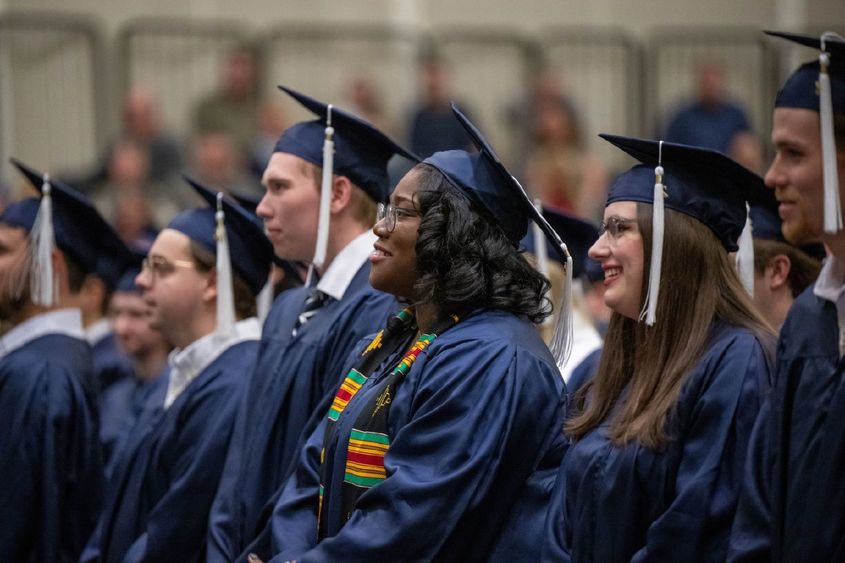 ERIE, Pa. — Penn State Behrend awarded 230 undergraduate and graduate degrees at the college's fall commencement ceremony. The Dec. 16 program, which was held in Junker Center, featured an address by Joseph W. Snyder, retired president and co-founder of Process and Data Automation.
Snyder, a Penn State Alumni Fellow, is a scuba diving instructor who splits his time between homes in Erie and in the U.S. Virgin Islands. He advised the new Behrend graduates to take the same precautions that keep him safe while diving.
"You'd be surprised how closely the rules underwater also apply to life on land," he said.
"When you're diving, you're in an environment that can be unforgiving if something goes wrong," he said. "That's where your buddy comes in. Your buddy can help you double-check your gear and can address small problems before they become big problems.
"The same can be said of life," he continued. "Find people you can trust, and that will always have your back. And make sure you have their backs in return. Those relationships can be the foundation of a network that can serve you well in your career, or even stay with you as a constant presence throughout your life."
It is a tradition at Penn State Behrend for a faculty member to address the new graduates. The Dec. 16 ceremony included remarks by Massimo Verzella, associate professor of English composition. He talked about the evolution of language, including the slang he hears from students such as "totes," "yeet" and "sus."
"All languages change because they are not fixed and pure," he said. "Languages and cultures are messy and hybrid. We should embrace this messiness and fluidity."
In clear terms, then: Congratulations to Penn State Behrend's newest graduates.
Contact
Robb Frederick
Assistant director, news and information, Penn State Behrend