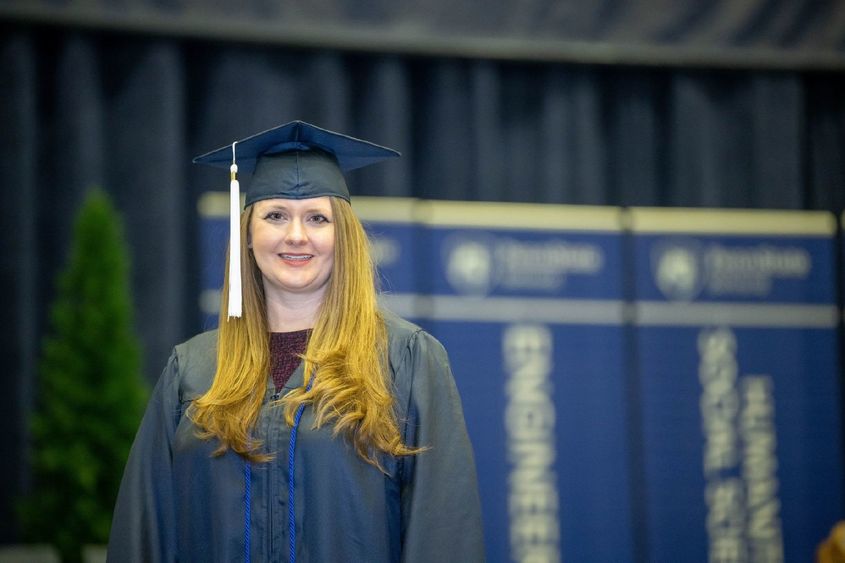 ERIE, Pa. — Brittany Anderson's first visit to Penn State Behrend was for commencement, where she served as the student marshal for the Black School of Business. She led the school's graduates into the ceremony.
Anderson, 35, had traveled from Texas to collect degrees in accounting and finance. She had enrolled through Penn State World Campus, the University's online campus. The online finance major she completed is one of several Behrend academic programs offered through World Campus with coursework taught by Behrend faculty members.
"I always wanted to get my degree," Anderson said. "Penn State World Campus, which I think was ahead of its time, had a program that I couldn't find elsewhere."
She enrolled in 2017, beginning with a single course. As an independent worker — she serves as director of real estate for LJA Engineering, a Houston-based consulting firm — she thrived in the online environment. She earned scholarships, participated in the Business Leadership Symposium and completed the Level-1 exams for the Chartered Financial Analyst and Chartered Alternative Investment Analyst certifications.
Anderson worked closely with Eric Robbins, an associate teaching professor of finance and associate director of corporate outreach and research at the Black School, and with Carol Peterson, who coordinates cocurricular programs at the school.
"Having an engaging professor made a huge difference," she said. "It connected me at a different level."
She appreciated that Robbins provided detailed feedback on every assignment. He also sent weekly updates about opportunities at Penn State, and with employers. Those contacts led Anderson to a role with the Black School's Business Analytics Team and an Innovation through Collaboration project with Troutwood, a Pittsburgh-based financial technology company.
That high level of engagement was the reason Greg Filbeck, director of the Black School, selected Anderson to be the student marshal — the first time a World Campus student was chosen for the role at a Behrend commencement.
"Brittany literally has taken every opportunity that was offered to her to be involved in our programs and clubs," Filbeck said.
He hopes other World Campus students connect with Behrend in the same way.
"The Black School of Business has worked hard to ensure that our World Campus students have the opportunity to participate in co- and extra-curricular activities, even though they're not on campus," he said. "We also want them to take leadership roles and create bonds among our residential and World Campus students."
Those experiences include commencement. For Anderson, who had never before visited Pennsylvania, that moment was important — for her, and for her 14-year-old son.
"I wanted him to see the benefits of it, and to understand it is an accomplishment," she said.
With her degrees in hand, she now hopes to move into merger and acquisition roles.
"This experience has been about much more than just receiving a piece of paper," she said. "I have been very fortunate in my professional career to get to where I am, but I am now more prepared for any opportunity that may come my way."
Contact
Robb Frederick
Assistant director, news and information, Penn State Behrend