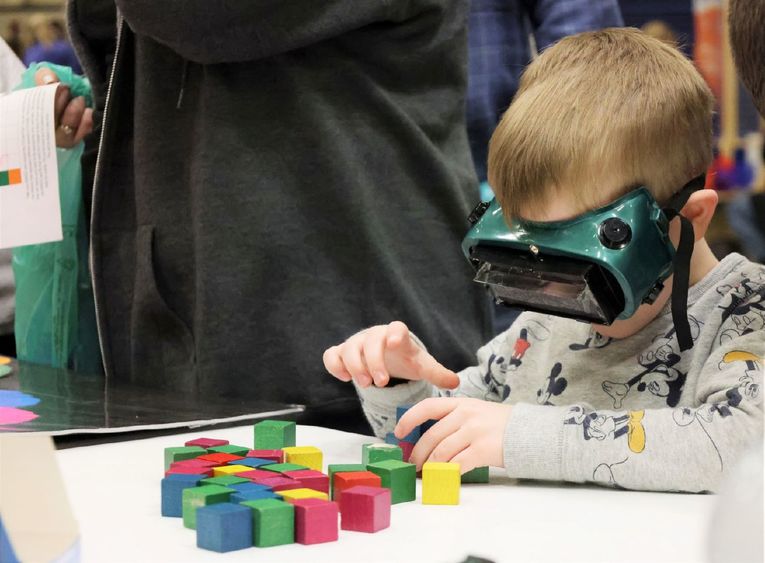 ERIE, Pa. — Colorful scarves and T-shirts soared over the court at Penn State Behrend's Junker Center on Feb. 20. The basketball teams had the night off, but the gym was full: More than 1,000 visitors had come for the college's annual STEAM fair — a hands-on, interactive showcase of science, technology, engineering, arts and mathematics activities.
Kids put scarves into a wind tunnel to watch them zip up and float back down. A remote-controlled robot launched T-shirts across the room. In a corner, families ducked into an inflatable, igloo-like structure — a portable planetarium.
Now in its eighth year, the event is structured like a kid-friendly career fair. More than 230 volunteers from dozens of local companies and community groups staffed activity tables. At one, participants used gumdrops, licorice sticks and toothpicks to create DNA models.
"It's an investment, of sorts," said Mike Benesh, a product manager at Zurn. He guided students through water experiments, using pebbles and a hydro-power generation device to demonstrate viscosity levels.
"One day, maybe, they will come work for Zurn and continue the legacy," he said.
At another table, a team from Siemens ran a computer game that allowed children to explore the skeletal system. At another, hosted by the Curious Minds Dive Foundation, volunteers had a display of scuba-diving activities, including summer camps focused on protecting coral reefs.
"We use scuba as the sizzle and education as the steak," said Larry Klinger, the foundation's executive director.
Students from the James R. Meehl Innovation Commons brought 3D printers.
"We want kids to see that they can solve these problems themselves," said Jake Marsh, the industry relations coordinator at Behrend. "That's what an entrepreneur is: a problem-solver. We want kids to see that inventing things isn't at difficult as it used to be."
Laurie Barringer, a parent from Clymer, New York, paused at the table with her 10-year-old son, Hunter.
"Hunter is big into science and electronics and building things," she said. "I hope he gets some knowledge about how things work and operate, and that he has some fun."
The STEAM fair is coordinated by Behrend's office of Youth Education Outreach. Student groups also participate, staffing tables and leading STEAM demonstrations with LEGO blocks, gears, magnets and computerized coding toys.
Trulee Stainbrook, a senior in the college's biology program and a member of the Tri-Beta honors society, worked the toothpick-DNA table.
"It's nice to teach them about things they should know, like DNA, and make it fun," she said. "There is a lot of cool stuff here."
Contact
Robb Frederick
Assistant director, news and information, Penn State Behrend