More than 200 area students competed in 35 science-based challenges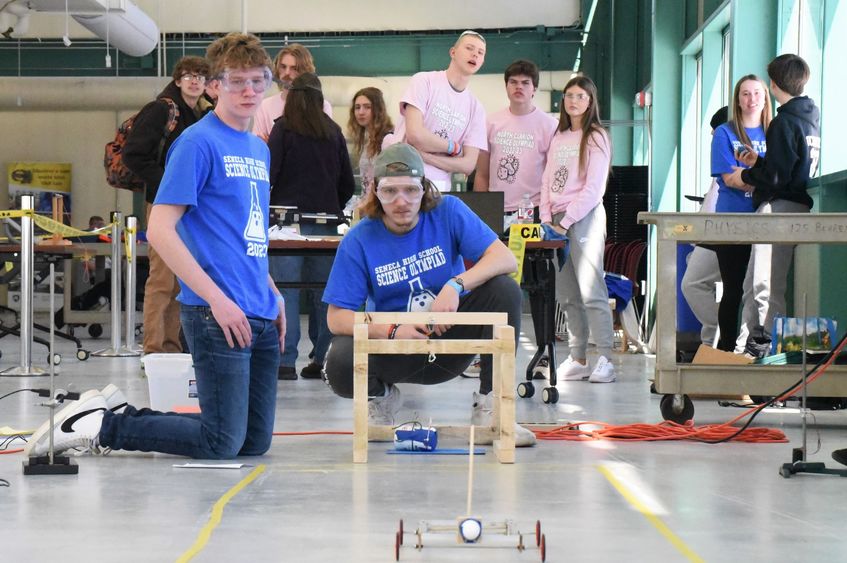 ERIE, Pa. — As the judges waited, two girls huddled around a small wooden trebuchet — a catapult with a counterweight that powered the firing arm. They were trying to launch a rubber ball into a five-gallon bucket.
The girls had come to Penn State Behrend to compete in the Pennsylvania Science Olympiad. A good launch would advance them to the state championships in Altoona on April 23.
The ball kept missing the bucket, however. The girls shrugged, picked up their project and walked back to their teacher.
"Did you do the best you could do?" he asked them. "Then, it's all right."
More than 200 students from area junior and senior high schools competed in the Behrend event. They tested their knowledge in 35 science challenges, which focused on astronomy, chemistry, physics, robotics and other topics.
The Science Olympiad is run like an academic track meet: Teams set up in the hallways, reviewing notes and fine-tuning their balsa-wood gliders, before individual events. Some teams wear matching science-themed T-shirts: "If it moves, it is biology," one shirt read. "If it stinks, it is chemistry. If it doesn't work, it is physics."
In the events, which are a blend of projects, lab exercises and exams, the students learn valuable lessons about what works, what doesn't, and why.
"Not everybody wins," said Paul Semrau, a teacher at Seneca Middle School. He has brought students to Behrend for the event for 14 years. "That's not how life works. It's about the next time, and what you are going to do differently."
Often, the best learning occurs when a model doesn't work, he said.
"We can blame the pandemic, but some of these kids and adults have forgotten how to get along," he said. "How do you solve the problem together, when two ideas don't match? How do you put forth your idea?"
In a staging area, Reagan Perry, a 10th grader, and Zahraa Alamerie, a ninth grader, made some final adjustments to the pendulum they had built. The girls worried they had "over-engineered it."
"We can have a project that works perfectly, but then we have a problem with it, and we have to find solutions," Alamerie said. "This has a lot of problems to solve. There is a lot that can go wrong."
As they tested different options, the girls, who attend Northwest Pennsylvania Collegiate Academy, had become friends.
"We ended up in a group together, and now we are friends," Perry said. "We'll probably work together again."
At a nearby workstation, Wade Peters and Owen Shaffer tested the strength of the wooden bridge they had built. The boys, who attend North Clarion Senior High School, slowly poured sand into a bucket they had hung from the base of the bridge. Eventually, the bridge splintered, and the bucket fell to the floor.
"It was under the weight I thought it would hold, but it still performed well," Peters said. "In a way, it was disappointing, but that builds the drive in us for the state competition. We know what we can do to make it better."
That's the hope of the teachers who accompany the students, and who guide their projects in sessions after school.
"It's not win or lose," Semrau said. "It's win or learn."
Contact
Robb Frederick
Assistant director, news and information, Penn State Behrend