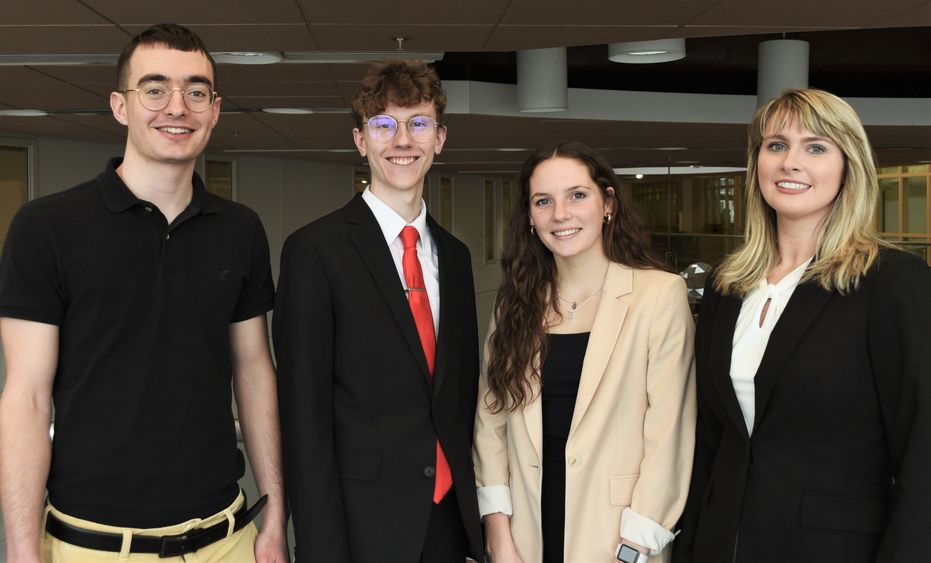 ERIE, Pa. — The Black School of Business at Penn State Behrend embraces a "learning by doing" approach, which was on full display at the school's Business Showcase in Burke Center on April 24. Twelve student research teams discussed their hands-on projects, which included a feasibility study for an online insurance platform, the development of websites for the Erie Times-News and the Financial Literacy Network, and new virtual reality and TinkerCAD applications.
Other teams discussed their work with ChatGPT, the Raimy Behavioral Lab, and the Black School's Bloomberg Terminals.
The showcase also highlighted student work on Innovating Through Collaboration Projects, which pair corporate partners with faculty-led student teams that study business processes, technology integration and marketing strategies.
The showcase, which debuted as an online event in 2020, demonstrates Open-Lab engagement in the Black School, where corporate partners recruit student and faculty talent to take on problems the companies do not have the time or personnel to solve themselves.
"That is something that distinguishes us from other business schools," said Greg Filbeck, director of the Black School. "Working with external partners gives students exposure to real-world experiences and makes them more workforce ready."
Brad Forkl, a senior in the school's marketing program, was part of a team that customized a website for the Financial Literacy Network. The students built the new website through Partnership Erie, a Black School outreach unit led by Kathy Noce, a teaching professor of management information systems.
"I got a taste of working and being able to go in-depth and take on this kind of project," Forkl said. "It improved my skill set tenfold."
Other students used the projects to supplement their book knowledge and apply methods they had read about.
"Some of it was trial-and-error," said Gabriel Szep, a senior in the management information systems program. "We learned it in the classroom, and then we applied it here. It was a great experience."
The new website is proof of what Black School students can do, said Joseph Thomas, a senior in the management information systems program. He can navigate to the site during interviews with potential employers.
"I now have a foot in the door," he said.
Contact
Robb Frederick
Assistant director, news and information, Penn State Behrend