Rhoades, a Behrend faculty member since 2012, also will serve as vice chancellor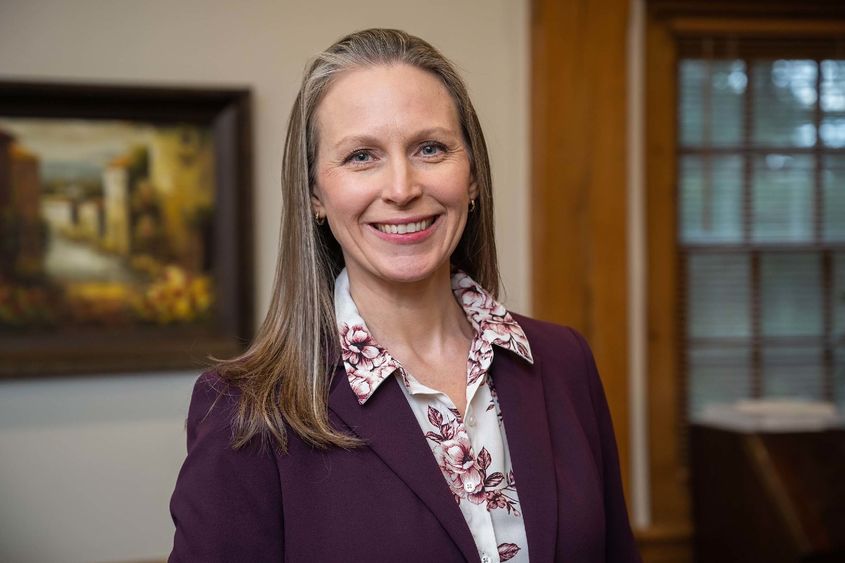 ERIE, Pa. — Alicyn Rhoades, an expert in polymer engineering and a faculty member at Penn State Behrend, has been named vice chancellor and associate dean for research and graduate studies at the college, where she has taught since 2012. She will lead the strategy, planning and administration of research, graduate programs, and research and outreach centers, including Pennsylvania Sea Grant, Susan Hirt Hagen CORE, the Biomedical Translational Research Center and the Advanced Polymer Engineering and Science Center.
"Alicyn's background — her academic preparation, research achievements, industry experience, understanding of the Penn State system and vision for the future of research and graduate studies at Behrend — makes her uniquely qualified for this critical senior leadership position," Chancellor Ralph Ford said. "She is exceptionally prepared to lead the advancement of our research enterprise and the expansion of our graduate studies programs and portfolio."
Rhoades was appointed to the role following a national search, which was led by Lynne Beaty, assistant professor of biology, and Greg Filbeck, director of the Black School of Business.
Rhoades, a 2001 Behrend graduate, returned to the college as an assistant professor of plastics engineering technology in 2012. By then, she had completed a doctorate in polymer science and engineering at the University of Southern Mississippi.
She also had worked in industry. As a research commercialization project manager at the Pennsylvania NanoMaterials Commercialization Center, she evaluated the technical and commercial merit of research proposals and worked closely with 11 companies. At Bayer MaterialScience, where she served as an innovation and industrial marketing manager, she developed new platform technologies and partnerships in sustainable chemistry and medical materials and developed strategy for Bayer's Thermoplastic Urethane products. She also was selected to be part of the company's high-potential leadership program.
In 2010, Rhoades was selected for the inaugural cohort of W.O.M.E.N. in America, a mentoring and networking initiative that prepares women for positions of corporate influence. The program grew out of the FORTUNE Most Powerful Women's Summit.
Rhoades later served as technical director at Moxietec, a plastics injection-molding company that manufactures innovative recycled foamed parts. There, she grew the technical staff and was a named inventor on five patents.
At Behrend, Rhoades has maintained an expansive research portfolio, securing more than $4.5 million in funding from government and industry partners, including General Motors, the National Science Foundation and SKF Corp. She was awarded a five-year, $660,000 NSF CAREER grant, which she used to study the ways friction and cooling rates during manufacturing affect the strength, flexibility and biodegradation of plastics.
In addition to her classroom work at Behrend, where she teaches thermodynamics, failure analysis and heat transfer, among other courses, she is a member of the graduate faculty in the Materials Science and Engineering program at Penn State's University Park campus.
Since 2022, Rhoades has served as interim associate dean of research and graduate studies at Behrend. In that role, she expanded the college's research footprint, which now includes more than $8 million in annual sponsored funding. She created a new Grants and Contracts office and led the negotiations on a 10-year master research agreement with SKF Corp.
"As interim associate dean, I have collaborated with faculty and staff to develop a strategic vision for research and graduate programs and have worked to support that vision with infrastructure and financial stability," Rhoades said. "I look forward to advancing that effort and expanding research opportunities at Behrend in ways that support our exceptional faculty and change the lives of our students for the better."
Contact
Robb Frederick
Assistant director, news and information, Penn State Behrend