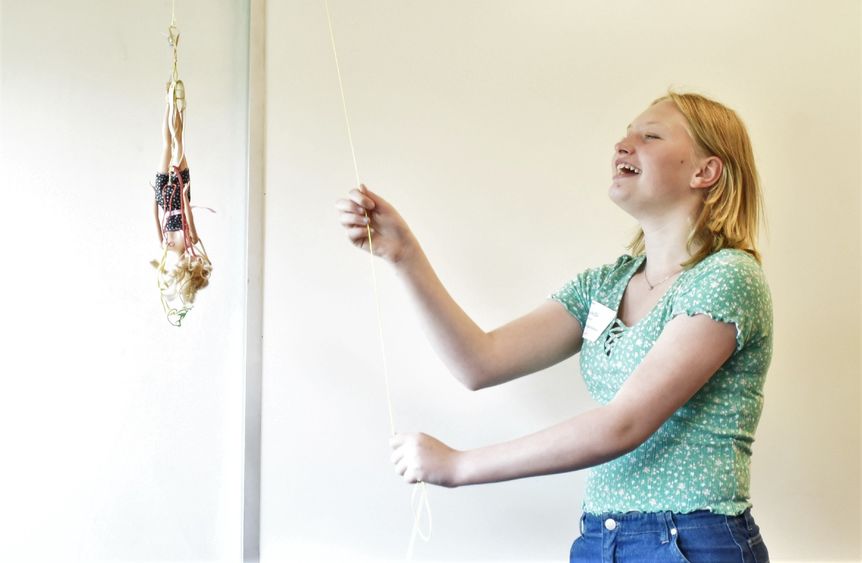 ERIE, Pa. — It was a bad day to be a Barbie.
In a classroom at Burke Center, at Penn State Behrend, a group of middle-schoolers tied the feet of several Barbie dolls to long, stretchy chains of looped rubber bands. Then they dropped the dolls, head-first, toward the floor.
Some of the Barbies dipped close to but didn't hit the carpet. That was the goal of the workshop, which taught Hooke's Law, which explains elasticity: A material's ability to return to a normal shape after distortion is known as a "restoring force."
Other Barbies — and, for equity, a few Kens — thwacked against the floor. It was an experiment that Sid, the sketchy neighbor kid from "Toy Story," would have appreciated.
The workshop was part of Behrend's annual Math Options Career Day, which brought nearly 250 seventh- and eighth-graders to the college for hands-on learning activities that were designed to generate interest in science, technology, engineering and mathematics. This was the 28th year for the program.
In another room, students fashioned tennis rackets out of cardboard tubes, bendy straws, pipe cleaners and balloons. They tested their designs by hitting a ball toward a target.
"Engineering takes multiple attempts," said Rachel Alloway, a software engineer at Wabtec, who volunteered to lead the workshop. "Never on the first time is it going to be flawless."
Lindsay Moir, a controls engineer at Wabtec, taught a workshop on Morse code. She helped the students build circuits and transmit electronic messages.
"This is hands-on learning," she said. "In math, they learn the numbers and the equations. This is putting the equation into practice."
The Math Options program is designed to encourage middle-school students — and female students, in particular — to continue with advanced math studies.
"Advanced math is going to give them more options down the road," said Melanie Ford, director of Youth Education Outreach and the Engineering K-12 Outreach Center at Behrend. "In seventh grade, you don't always know what those options are. Programs like this allow teachers to add the 'why' to what they are teaching in the classroom."
Participants attended learning workshops that were led by female engineers. They also explored exhibits at a "STEM in Action" activity fair in McGarvey Commons.
"I think it's helpful, seeing a college and seeing older students," said Julia Dean, an eighth-grader at Walnut Creek Middle School. "You get to ask questions and learn about different majors and what you can do with math and science."
Some of that learning led to light-hearted moments. Back in the Barbie room, for example, students laughed and groaned whenever a doll struck the floor. Then they shortened the rubber band rope and tried again.
"They're learning how to make calculations," said Anne Eisert, a project manager at Erie Insurance. "We're also showing that these subjects can be fun and engaging. Math isn't just about sitting behind a desk.
"We're adding the fun factor," she said.
It seemed to work.
"This makes math more enjoyable," said Julia Light, an eighth-grader at Harbor Creek Junior High School. "Instead of just writing down notes, we are creating bungee-jumping Barbies."
Contact
Robb Frederick
Assistant director, news and information, Penn State Behrend