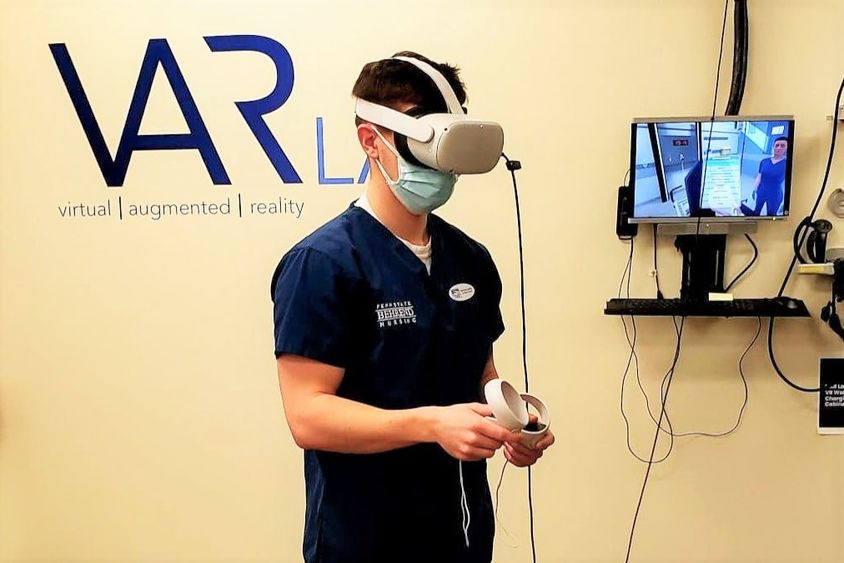 ERIE, Pa. — Clinical rotations are invaluable to nursing students, who gain real-world experience in a guided environment. The model has limitations, however, particularly in acute care.
"Because of the acuity level of OB, ICU and ED patients, students are not always afforded the opportunity to deliver direct patient care," said Debra Loop, an assistant teaching professor and the simulation coordinator for the nursing program at Penn State Behrend. "They quickly become a passive learner as they take on the role of observer."
Pediatrics brings another challenge, at least in Erie: The sickest children tend to be transferred to specialty hospitals in Pittsburgh or Cleveland. That limits the types of patients that students see during their rotations.
To create more opportunities for students, Loop and Heidi Rich, an assistant teaching professor of nursing at Behrend, introduced virtual reality, or VR, patient-care simulations. They partnered with instructors at Penn State Fayette — both programs are part of Penn State's Ross and Carol Nese College of Nursing — to offer VR interactions.
A $5,000 grant from the Schreyer Institute for Teaching Excellence paid for the software, which was licensed from Oxford Medical Simulation. Loop didn't have to look far for the other equipment, including the Oculus headsets that create the immersive VR environments: Behrend's Virtual/Augmented Reality Lab works with programs in each of the college's four academic schools to develop enhanced learning modules and training simulations.
"Immersive technologies have extensive interdisciplinary applications and proven benefits in academic outcomes," said Christopher Shelton, assistant professor of clinical psychology and director of the VAR Lab. "This project is an effective way to leverage VR inside the classroom."
Loop used simulations of pediatric patients with asthma and diabetic ketoacidosis. Using the Oculus headsets and hand controls, her students worked through 20-minute VR modules. They obtained a patient history, performed assessments, managed bedside tasks and delegated work to a patient-care technician.
In each scenario, the student interacted with both the patient and the parents. That isn't always possible in Behrend's advanced nursing labs, which are equipped with high-fidelity simulation mannequins, including a pediatric model. In those labs, having a parent present means bringing in additional staff to enhance the simulation.
"We can't always do that," Loop said. "It's important for students to be exposed to both, however. You need to be able to interact with both the child and the parent, changing your vocabulary as you shift from one to the other, so everyone understands what's happening."
The traditional simulation labs are still fully integrated in the curriculum at Behrend, but Loop sees another advantage to occasionally using VR environments. She is seeking grant funding to expand use of the Oculus headsets for students in their sophomore, junior and senior years.
"In the traditional lab, only one person can be the primary caregiver in a simulation," she said. "Everyone else sort of helps them out, until they get a turn. In VR, you are always the primary nurse.
"In a group setting, you can always step back and let a stronger student take over," she said. "You can't do that when you're on your own. You have to make your own decisions, and you have to fully understand the reasons for them."
Contact
Robb Frederick
Assistant director, news and information, Penn State Behrend