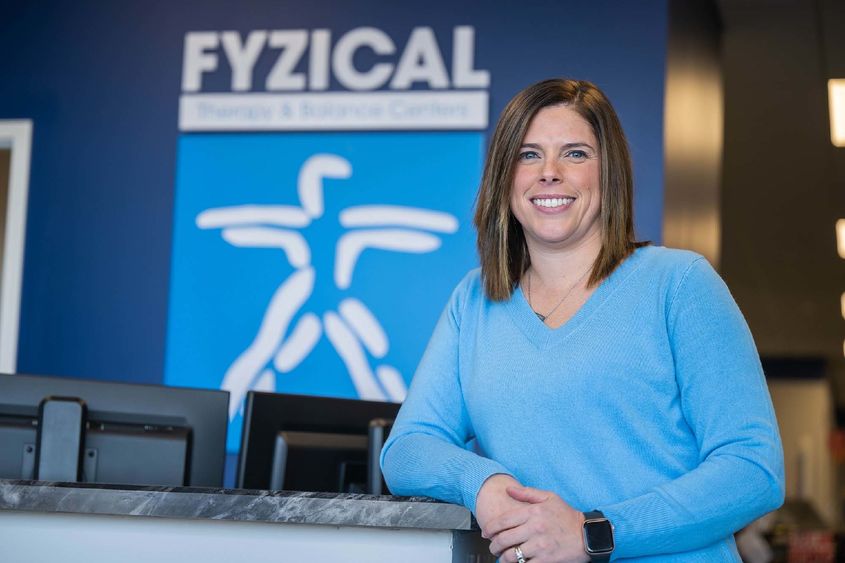 ERIE, Pa. — When she enrolled at Penn State Behrend, Karla (Murray) Mazza planned to major in kinesiology, and to transfer to University Park after two years. Then she joined the college's volleyball team.
Within the season, her plan changed.
"I just loved the team and Behrend, so I had to think about my skill set and where I could apply it. My mom suggested marketing," said Mazza, who graduated with a marketing degree in 2007 and an MBA in 2008. "It aligned with what I wanted, which was to have a lot of options in the business world and to one day be my own boss."
That day came sooner than she imagined when she and her husband, Dave, ran into a college friend, Christopher Bailey, a physical therapist who was considering buying a physical therapy franchise, Fyzical, in Corry.
At the time, Mazza was working for Patterson-Erie Corp., which owns and operates Burger King franchises in the Erie region. She had experience with the franchise model and told Bailey she would look over his plan.
After doing the research, she was impressed.
"I liked the business opportunity that Fyzical offered to someone without a medical degree and their approach to providing more holistic health care," she said.
Bailey suggested they join forces. He would handle the clinical work, and Mazza would manage the business.
"Dave and I believed in Chris' vision and Fyzical, so we bought into the business," she said.
The partnership flourished. In 2021, Bailey and Mazza were named the Fyzical Franchisees of the Year. They recently opened their fourth location.
After taking ownership of the Corry facility, Bailey and Mazza noticed that many of their patients were driving from Erie for treatment of vertigo and balance issues — a specialty of the Fyzical franchises.
"People assume they have to leave the region to get help, but it can be found right here," Mazza said.
With clients already in Erie, the team decided to expand. They opened a second location, in West Erie, in 2019.
"That was eye-opening," Mazza said. "Splitting our time between multiple clinics highlighted the need to have consistency."
Two more clinics opened in 2022, in Harborcreek and Summit townships. Each has a clinical director, but Mazza is a frequent presence.
"Face time is vital," she said. "I need to be accessible to our employees, and the more time I spend in the centers, the better I understand our needs and challenges."
Though Mazza doesn't provide treatment to patients — Bailey and the licensed physical therapists fulfill that role — she enjoys being in the clinical environment and helping people.
"My Behrend volleyball coach, Phil Pisano, used to tell us that it was important to find a career that aligned with our purpose in life," Mazza said. "I think I have done that."
She doesn't plan to expand the franchise any time soon.
"I think four is the right number," she said. "I'd like to help other franchisees grow now. It wasn't long ago that I was a single proprietor trying to figure everything out. Helping someone who is just getting started would be rewarding for me."
Contact
Heather Cass
Publications and design coordinator
Penn State Erie, The Behrend College