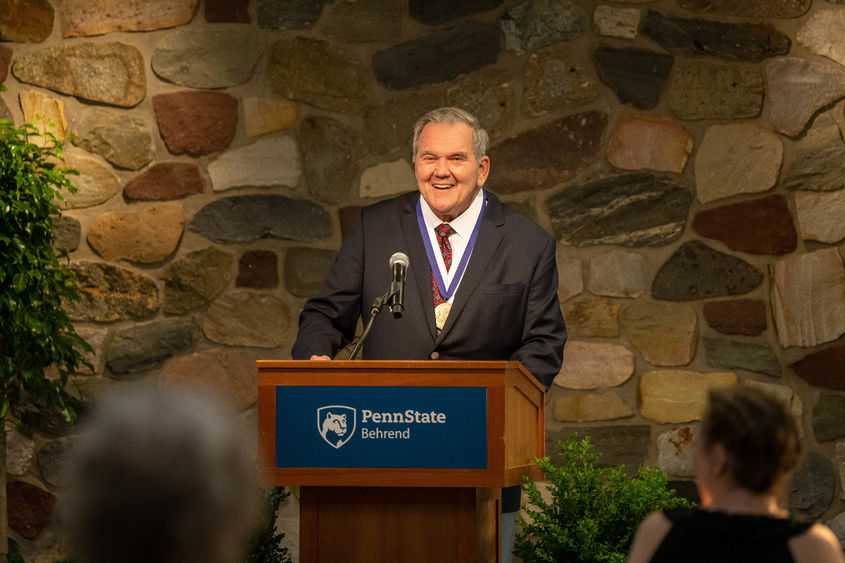 ERIE, Pa. — Penn State Behrend has presented the Behrend Medallion, the college's highest award, to former Gov. Tom Ridge, a longtime Erie legislator who also served in Congress and as the first secretary of the U.S. Department of Homeland Security.
The medallion was presented at the college's annual Glenhill Appreciation Dinner, where Ridge, 77, was introduced by friend Thomas Hagen, chairman of the board of Erie Insurance Group.
"Tom serves by being a conscience for all in the public sphere — a reminder that, despite our differences and disagreements, nothing is ever solved without respect, compromise and, above all, civility," said Hagen, who received the Behrend Medallion in 2018.
Ridge, a 1972 graduate of Penn State Dickinson Law, was the first Vietnam combat veteran to serve in the U.S. Congress. He was elected to six terms in the House of Representatives.
In 1994, he was elected governor, having campaigned on a promise to make Pennsylvania "a leader among states and a competitor among nations." He developed the "Growing Greener" initiative, which has invested nearly $650 million in Pennsylvania parks and open-space preservation efforts, and expanded the Children's Health Insurance Program, which provides free or low-cost health care to nearly 128,000 children across Pennsylvania.
Ridge has been a longtime supporter of Penn State Behrend. As governor, he approved the original funding for the college's Knowledge Park, where 22 companies now employ more than 500 people, and he was instrumental in securing $30 million in funding for the Jack Burke Research and Economic Development Center.
In 2001, in the wake of the Sept. 11 terror attacks, Ridge became the first secretary of the U.S. Department of Homeland Security. He was tasked with coordinating a comprehensive national strategy that protected the nation against terrorist threats, leveraging the expertise of federal agencies that were not accustomed to working collaboratively.
Today, Ridge is chairman of Ridge Global, a consulting firm that provides solutions to risk-management issues, including cybersecurity and international security.
"In terms of character, honor and, certainly, civility, Tom Ridge is in a class of his own," said Ralph Ford, chancellor of Penn State Behrend. "As a politician, he is an increasingly rare model. As a person, he is wholly worthy of our respect, gratitude and admiration for his decades of service to our city, our state and our world."
The Behrend Medallion is given to individuals who, by their service to society, have brought honor to their profession, their community and themselves. The medallion has been awarded just 23 times since the college was founded in 1948.
In addition to Ridge and Hagen, previous recipients of the Behrend Medallion include six-term Erie Mayor Louis J. Tullio, astronaut Paul J. Weitz and GE executive Nancy Anderson. For a full list of recipients, visit the Behrend Medallion webpage.
Contact
Robb Frederick
Assistant director, news and information, Penn State Behrend