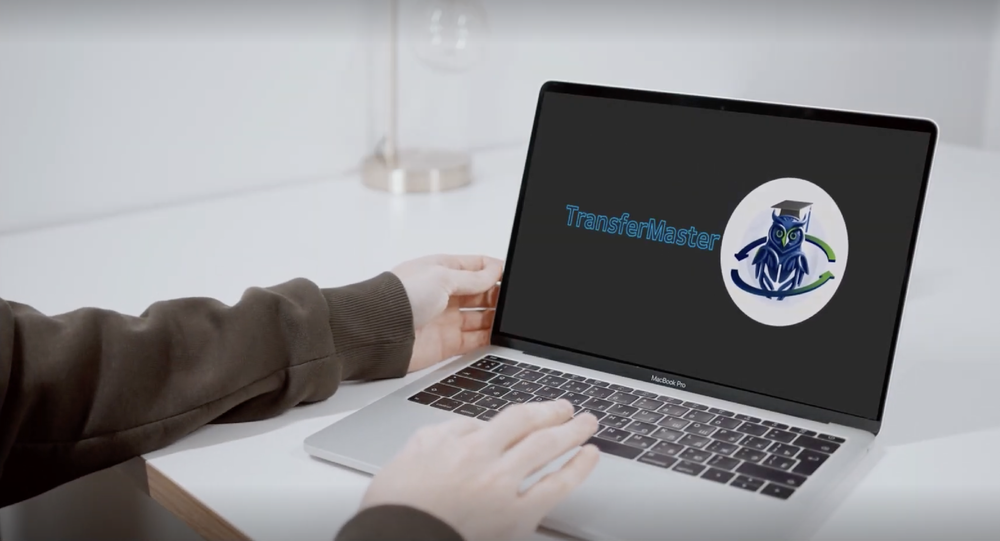 UNIVERSITY PARK, Pa. — Penn State students working with the Nittany AI Alliance are sparking innovation at the University by exploring how artificial intelligence (AI) can help simplify the application and transfer process.
The goal of SmartOCR, a Nittany AI Advance project, is to streamline the task of manually entering transcript information on the Penn State student application.
Matt Melvin, vice president for enrollment management at Penn State, said this information is often required to be entered twice during the process, creating a potential barrier for prospective students that he and the SmartOCR team are working to resolve. 
"Students, particularly adult learners and transfer students, are less willing to be bogged down in the administrative minutia associated with managing the application process, so they are saying to themselves, 'I thought I was done. Why am I doing this again?'" Melvin said.
Not long removed from the application process themselves, the Penn State student team working on SmartOCR is exploring how AI can help.
"If you show that process to anyone who works in the field of AI, they will say, 'that is a great candidate for something that AI can do,'" said Joshua Famous, a graduate student working toward a master's degree in computer science in the College of Engineering and project lead for SmartOCR.
Additional team members working on the project during the summer semester are two students from the College of Engineering: Jongchan Pyeon, who is working toward a doctoral degree in industrial engineering, and Tanuj Gaikwad, who is majoring in computational data sciences.
The team is working with the Penn State Undergraduate Admissions Office exploring the use of AI to recognize and extract data from transcripts, freeing students from having to manually enter the information themselves.
"This project is a great example of how we are empowering students through the use of AI technology to make our Penn State systems and processes better, while giving them valuable career-enhancing experience as a direct result of their work," said Daren Coudriet, executive director of the Nittany AI Alliance and executive director of innovation for Penn State Outreach.
Famous said it has opened career opportunities.
"Since this has been on my resume, it is the only thing that recruiters want to talk about. It tends to impress people with a lot of the soft skills and the technical skills we were able to refine," Famous said.
In its sixth semester of development, the SmartOCR team continues its work toward a solution that could potentially be integrated into Penn State's application process by expanding its data to include a more diverse set of transcripts and training its AI components to analyze this information the way an admissions expert would. Melvin said as the project progresses, it has the potential to positively impact future students and staff by simplifying and streamlining both application and application review processes.
"It is fun and exciting. It is an example of how to push the envelope in AI and leverage it in a way that is not just for grins and giggles but is something that has powerful potential to radically benefit Penn State in the long term," Melvin said.
"The project is just one example of how the Nittany AI Alliance and Penn State can work together to explore how AI can be used for good at the University and beyond," Coudriet said. "AI will be one of the most, if not the most, disruptive technologies the world has seen in its history. Not only do we need to embrace this technology as a University, but as Pennsylvania's only land-grant institution, we need to help ensure the democratization of AI throughout the commonwealth."
As SmartOCR continues to develop its solution, a different group of students working with the Nittany AI Alliance as part of the 2023 Nittany AI Challenge is just getting off the ground with a project aimed at another process that involves incoming students — the credit transfer process.
"As students, we want to do something that is impactful for other students. One of the issues we came up with involves the transfer credit process," said Jared Daniel, a Penn State World Campus student majoring in software engineering and one of the technical leads of TransferMaster.
Deb Little, interim director of enrollment performance management for Penn State World Campus, said the process of transferring credits from one institution to the next can be frustrating for students because of the time it takes for experts to manually compare syllabi.
"From a student perspective, it is a lot of waiting, and it potentially delays a decision about coming to Penn State," Little said. "This project is cool because it comes from the people most impacted by this process, students."
By leveraging AI to help evaluate and compare syllabi, the TransferMaster team hopes to take some of the burden off transfer specialists and faculty who must approve a credit transfer, thus reducing the amount of time it takes for students to get answers.
Additional team members include Andrew Klawa, who is majoring in software engineering through Penn State World Campus; Elizabeth Morvey, who is majoring in information sciences and technology at Penn State Harrisburg; and Neha Pandit and Manasi Patil, who are majoring in software engineering and computer science, respectively, at Penn State Behrend.
The team has advanced its project to the final phase of the Nittany AI Challenge, where they are creating a minimum viable product (MVP) and will compete with 10 other teams for a chance to win a portion of the remaining pool of $25,000 in funding. The winning teams will be announced at the AI For Good Expo on Sept. 7.
The Nittany AI Alliance, a unit of Penn State Outreach, provides students with unique opportunities to help prepare them to lead in a world shaped by artificial intelligence by immersing them in project-based experiences that bring together companies seeking strategic AI collaborations, faculty working on innovative AI research, and staff looking to address higher education process pain points using AI.