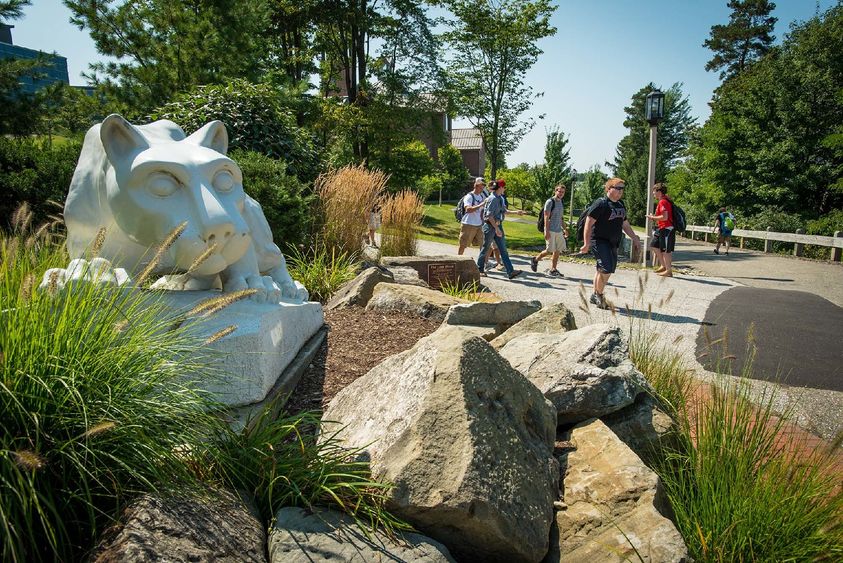 ERIE, Pa. — Each of the more than 1,000 students in Penn State Behrend's Class of 2027 will experience life at the college in a unique way. Their stories all began with the same chapter, however: a session at New Student Orientation.
NSO is an opportunity for students who are new to Penn State to meet faculty, staff and classmates and begin to develop academic and co-curricular goals. Sessions are coordinated by the Division of Undergraduate Studies.
"It's an opportunity for students and their families to feel secure in their decision that Penn State Behrend is the right place for them," said Terri Mando, director of exploratory and pre-major advising. "They start to make connections."
At NSO, students pick up their college ID and schedule their classes for the fall semester. They also have an opportunity to meet with representatives of the various resource offices and support teams at the college.
"This is how they start to put their academic plan into place," Mando said.
This summer's NSO sessions were held in Burke Center. Students were able to learn about academic tools they'll be using: CANVAS, LionPATH, Starfish and BehrendSync. Their parents got information about housing, commuter services and experiential learning, including internships and study-abroad opportunities.
"This did help me understand what it's going to be like here," said Sam Brady, of Harborcreek Township. "I think it went really well."
Alexis Soluri, of Newfane, New York, was eager to meet other students. She said she is particularly interested in meeting classmates from other parts of the world.
"A lot of the information here is really helpful," she said. "All of the faculty and staff are super happy, and you can tell they like what they do."
The NSO program, which included a one-on-one meeting with an academic adviser, made the transition to college finally feel real, Soluri said.
"When making my schedule and picking my classes, I liked that I got to pick what I want to take," she said.
Jake Grosse, of Pittsburgh, said he is excited about having new experiences, including a study-abroad opportunity. He plans to study communications, with a focus on journalism.
"I really want to learn more about my major," he said. "I want to broaden my horizons."
The transition hasn't yet fully registered for him, Grosse said.
"I don't think it will feel real until I move in and am sitting in my dorm room," he added.
As she talked with students and their families, Mando kept offering the same advice.
"I always ask students to think about what skills they want to get out of college," she said. "They are the CEOs of themselves at this time. What they decide to do with their time here is important. You get out of college what you put into it."
Contact
Robb Frederick
Assistant director, news and information, Penn State Behrend