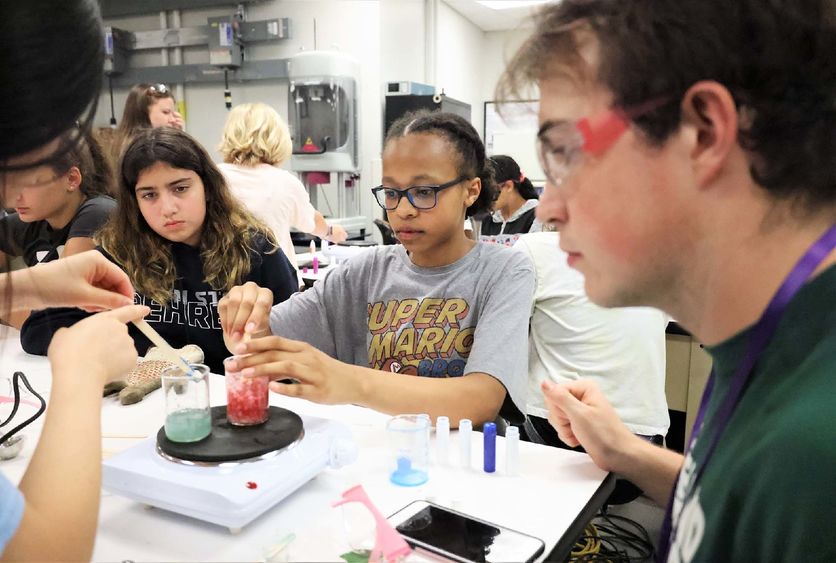 ERIE, Pa. — Can a robot see colors?
At the Wabtec Girls Who STEAM camp at Penn State Behrend, Kendra Kope and Emma Stafford tested the premise. They traced lines of color on sheets of white construction paper and then set an Ozobot, a pocket-sized coding robot, on the page's edge. The robot motored forward, changing direction whenever it encountered a new color.
"You can program it to move with these different codes," said Kope, a seventh-grader in the General McLane School District. "It's also able to recognize all of these colors, which is really cool."
Approximately 50 seventh-grade students attended this year's Wabtec camp at Behrend. The weeklong program is a science, technology, engineering and math camp where attendees are paired with female mentors from Wabtec. Faculty members from Penn State Behrend also lead classroom and lab sessions.
The program introduces middle-school girls to careers and fields they might not previously have considered, said Melanie Ford, director of Youth Education Outreach at Behrend.
Attendees participate in more than 20 STEAM-related activities during the week. They made lip gloss and experimented with color-changing slime. They built model roller coasters and rubber-band cars. They toured Behrend's 10,500-square-foot plastics engineering lab — the largest of its kind in the nation.
For Stafford, also a seventh-grader, the entire week was rewarding.
"Some people our age aren't really thinking about college," she said. "Then, they might not know what they want to do, so they get stuck. That's why a week like this is so important."
She and Kope already are thinking about how they might better prepare for college.
"This makes me think I might want to join the robotics team, once I get to high school," Kope said.
"Me, too," Stafford said.
Contact
Robb Frederick
Assistant director, news and information, Penn State Behrend