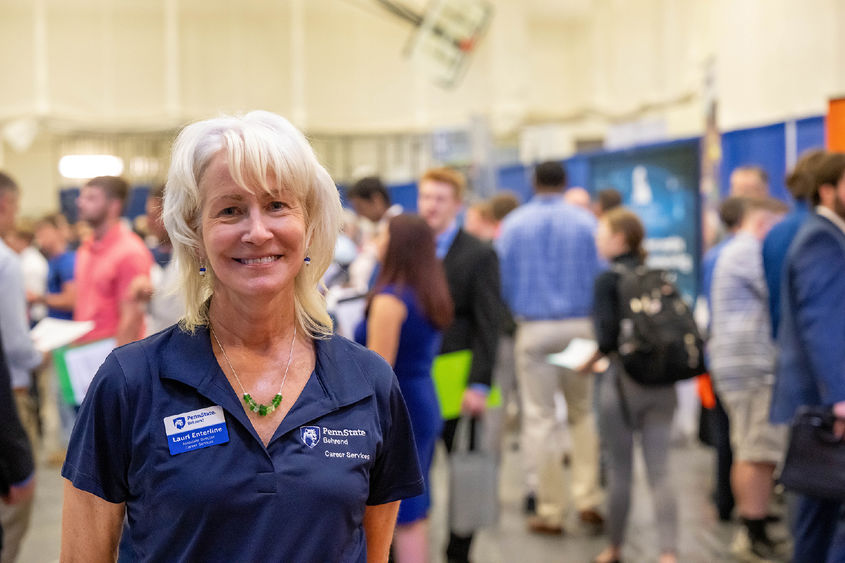 ERIE, Pa. — If your elevator pitch works — if the recruiter likes what she hears from you at the Career and Internship Fair at Penn State Behrend on Sept. 27 — the next step is an interview, followed by a reference check. And then, hopefully, an offer: a job that carries you into the next stage of a successful, satisfying life.
Hopefully, it feels right. But maybe there's a tug of doubt: The salary is less than you had expected, or there's a travel requirement or an office you have to share.
Some of that can be negotiated, said Lauri Enterline, associate director of career services at Behrend. And with companies still adjusting to flexible work arrangements — a holdover from the COVID pandemic — new employees have more leverage than ever.
"Everyone should negotiate," Enterline said. "You have to know your goal, however, and you have to be professional and positive throughout the discussion. Negotiating isn't saying, 'This is what I want,' or even, 'This is what I need.' It's an opportunity to talk more about what you bring to the table: your skills, your abilities and your wish to stay with and grow with the company."
Enterline spoke with Penn State News about how new hires should approach a negotiation, what they can ask for and when to stop pushing.
Q: When a company offers someone a job, do they expect some level of negotiation?
Enterline: Most do, I think. They don't want to lose good people. They have invested time and energy to bring you to this point, and they aren't likely to walk away from that. That said, every company is different. If there isn't room for negotiation, they'll let you know. They'll say, often very clearly, 'This is what we can do.'
Our career services team can help at any point in the process. Any Penn State student can meet with a career counselor to discuss their offer, or their approach to negotiating. If a student has a question that involves a legality, such as a noncompete clause, attorneys at Penn State will review the offer and give legal advice at no cost to the student.
Q: New hires often are at a disadvantage, especially when they are just entering the workforce. If they ask for something more, won't the company just rescind the offer?
Enterline: I hear this from students all the time. They worry about getting an offer, and then, when it comes, they don't want to lose it. You shouldn't be afraid to negotiate, however. If you ask for something and it's a reasonable request and the company responds by pulling your offer, you have to ask yourself: Do you really want to work for a company that would do that?
Q: Job negotiations most often focus on salary. What other benefits can be negotiated?
Enterline: We're seeing more companies be flexible on work-from-home accommodations. Maybe you want to work from home one day each week, to save money on your commute. Maybe a four-day workweek, with 12-hour shifts, is a better fit for you. Maybe you have a vacation planned, but it's scheduled before you will have accrued enough paid time-off. That's something many companies will be willing to work around.
Q: What if you're signing on for an internship, instead of a full-time job? Is there room for negotiating there?
Enterline: Absolutely. I have worked with students who were offered $12 an hour for an internship. They asked for $15, and, boom, just like that, they got it. But that only happens if you ask.
The other consideration with an internship is any need to relocate. Short-term leases can be tricky. Larger companies often will have some type of housing available or a stipend for housing.
Q: At what point in the hiring process should we be having these conversations?
Enterline: Not in the initial interview. You never want to ask about salary or benefits until the employer begins that conversation. But you should be ready if they ask you about it in the interview. You should have a reasonable salary range in mind.
Q: How far should we push?
Enterline: You want to be reasonable, and you want to keep things professional. In most cases, you'll find out fairly early in the process what the company is willing to do. At that point, you can accept the offer, or you can thank them and move on.
What's important is that you begin that conversation. If you don't ask the question, the answer is always going to be no.
Contact
Robb Frederick
Assistant director, news and information, Penn State Behrend