Erie attorney began his college career at Penn State Behrend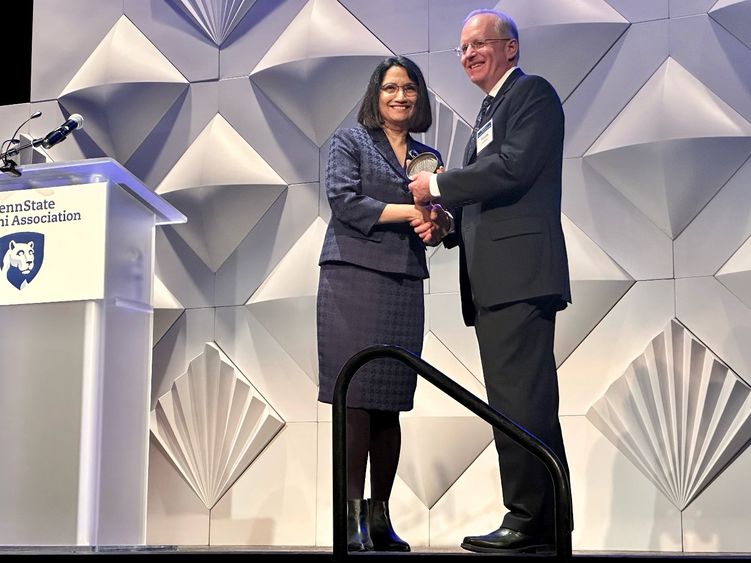 Thomas C. Hoffman II '88, an attorney with the Erie firm of Knox McLaughlin Gornall & Sennett who started his college career at Penn State Behrend, has been named one of 13 Penn State Alumni Fellows for 2023.
The lifelong title of Alumni Fellow is the highest award given by the Penn State Alumni Association.
As a lawyer and certified public accountant, Hoffman has represented thousands of companies and individuals on business, estate, trust and tax matters. In his work with Knox McLaughlin Gornall & Sennett, he advises a diverse group of clients — including manufacturers, oil and gas companies, timber companies and publishers — in more than 15 states.
Hoffman, who previously worked as a CPA with Ernst & Young in Pittsburgh, works with accountants, bankers, insurance agents and even former IRS agents to serve his clients. He helped found the Knox Law Institute, through which he contributes to programs on topics such as business succession planning, estate planning and tax law.
Hoffman was integral in establishing Penn State Behrend's Center for Family Business, an outreach effort of the Black School of Business. He also serves on Penn State's Planned Giving Advisory Council and Behrend's Council of Fellows Board of Directors.
"Tom has been a friend to Penn State Behrend in many ways, and his support for our Center for Family Business is particularly valuable," said Chancellor Ralph Ford. "Using his years of experience with business and law, Tom has been able to help us not just create a new outreach opportunity, but truly make a difference in the local business community."  
In the broader Erie community, Hoffman is a founding board member of Erie Center for Arts and Technology, serves on the board of the Hagen History Center, and is a past executive board member of the Erie Regional Chamber and Growth Partnership.
Hoffman and his wife, Paula '87, live in Erie and are life members of the Alumni Association. They have three children—Christine '19, Paul '20, and Thomas III '20.
Alumni are nominated for the Fellows award by Penn State colleges and campuses as leaders in their professional fields and accept an invitation from University President Neeli Bendapudi to return to their home college or campus to share their expertise with students, faculty and administrators.
Contact
Robb Frederick
Assistant director, news and information, Penn State Behrend