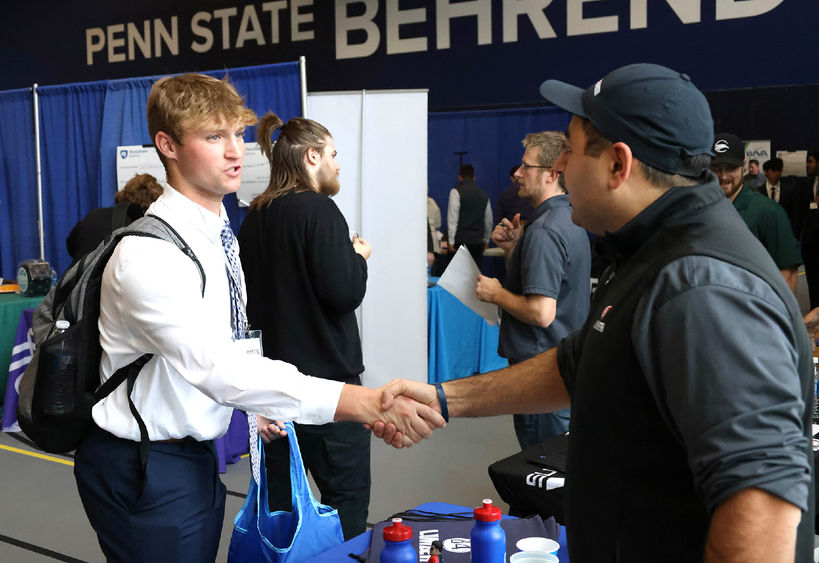 ERIE, Pa. — As they check their neckties and practice their elevator pitches, students entering a career fair know the importance of a first impression.
In a candidates' market — which is how Forbes describes the current hiring environment — employers also have to put their best foot forward.
Penn State Behrend's fall Career and Internship Fair drew 178 companies and organizations to the college's new Erie Hall. Recruiters for those companies hoped to fill full-time, part-time, co-op and internship positions. Nearly 1,200 students attended the fair, and most were looking for more than a job offer, said Lauri Enterline, associate director of Career Services at the college.
"Students really are seeking relationships with employers," she said. "Especially this generation of students. It's really important for employers to get in front of students and talk about their company."
Post-pandemic, many companies are trying to navigate a new working world, said Dave Knostman, a plastics engineering manager at Nissan North America. He attended the Sept. 27 career fair at Behrend, traveling from Sparta, Tennessee. Nissan's first trip to Behrend — for the spring 2023 career fair — led to two hires.
"As a company, we are gradually trying to expand our engineering groups right now, and it is a challenge," Knostman said. "We are targeting different schools for different degrees."
Students who visited the tables for Nissan and other companies had their choice of free swag: water bottles, bags, bottle openers, pens, stress balls and all sorts of candy. The conversation that follows that exchange has far more value, employers said.
"The trinkets always help, but what really helps is getting word out about the things that are great about our firm," said Alexis Burkhart, a staff accountant at McGill, Power, Bell and Associates, and a Behrend alumna.
Fewer accounting graduates and the rise of remote work mean more competition among firms, Burkhart said. Employee incentives at McGill include a $10,000 exam bonus, hybrid work environments and Fridays off in the summers.
Having alumni represent the company at the Behrend career fair also is a strategic move, Burkhart said. She was an intern at the firm before transitioning to full-time employment.
Courting interns is a way for companies to establish and maintain a pipeline of employee talent, said Mitchell Kalkhof, a partner at McGill.
"You need to be more forward-thinking and mindful in hiring," he said. "We have a lot of luck hiring from our internship program, so we have a lot more internships."
At another table, Anne Trucilla, an internship and care coordinator at the Barber National Institute, talked with students about a new apprentice program — a collaboration with Behrend that helps graduate students navigate the next step in their career.
"This is our third career fair. Sometimes, we see students, and we ask them, 'What do you want to do?' And they don't know yet," she said. "An apprenticeship can give them a feel for the different ways they can use their degree."
Other recruiters look for students who are curious, and who ask pointed questions about the company's culture.
"Hiring is not as straightforward as it used to be," said Alex Miller, an operations manager at Cummins. "We are having more personalized conversations. That is what today's students are looking for.
"They want to know what they are signing up for, and what the company represents, and that's good," Miller said. "For your first job, those are questions you should be asking."
Contact
Robb Frederick
Assistant director, news and information, Penn State Behrend