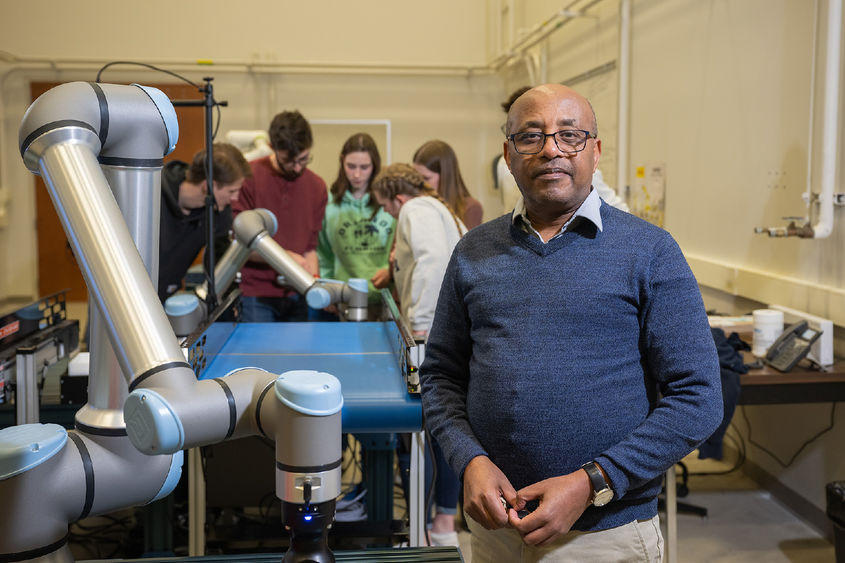 ERIE, Pa. — In the new $1.2 million Prischak Robotics and Automation Lab at Penn State Behrend, Yohannes Haile, an assistant teaching professor of management and industrial engineering, is developing a new approach to collaborative learning: The students in his class, which is open to undergraduates in all engineering disciplines, work alongside industry-grade manufacturing robots.
"We consistently hear from our industry partners that the future of manufacturing is automation," said Tim Kurzweg, director of the School of Engineering at Behrend. "We also hear that employees often do not yet have the experience and confidence they need to work with robots. This lab is designed to close that gap."
The lab, which opened in late 2022, is equipped with robots, sensors, vision systems and manufacturing control systems. A FARO laser scanning arm will soon add even more functionality.
The facility was made possible by a $1.2 million gift from the Erie-based Plastek Group and the family of its founder, the late Joe Prischak.
"We are truly grateful to the Prischak family and the Plastek Group for their continued support of the School of Engineering and their sustained leadership as innovators in the plastics industry," Kurzweg said. "The Prischak family's support for Penn State Behrend has strengthened the School of Engineering, the School of Science, athletics and Youth Education Outreach programs, and the Yahn Planetarium."
The Plastek Group leadership team toured the lab during an Oct. 10 dedication program.
"The lab is configured to be both internal- and external-facing," Haile said. "The internal-facing aspect advances experiential learning and supports the college's research activities. The external-facing aspect supports collaboration with industry, providing a safe sandbox for innovation and experimentation of new ideas and concepts away from the manufacturing floor."
Haile has talked with and hosted representatives of Parker LORD, Lake Erie Rubber, Port Erie Plastics and the Cummins Jamestown Engine Plant, among other companies. All are looking to add or expand the robotics in their manufacturing operations.
"Robotics and automation make manufacturers more competitive," Haile said. "These systems increase efficiency, lower labor costs and reduce the ergonomic stress on workers."
Contact
Robb Frederick
Assistant director, news and information, Penn State Behrend