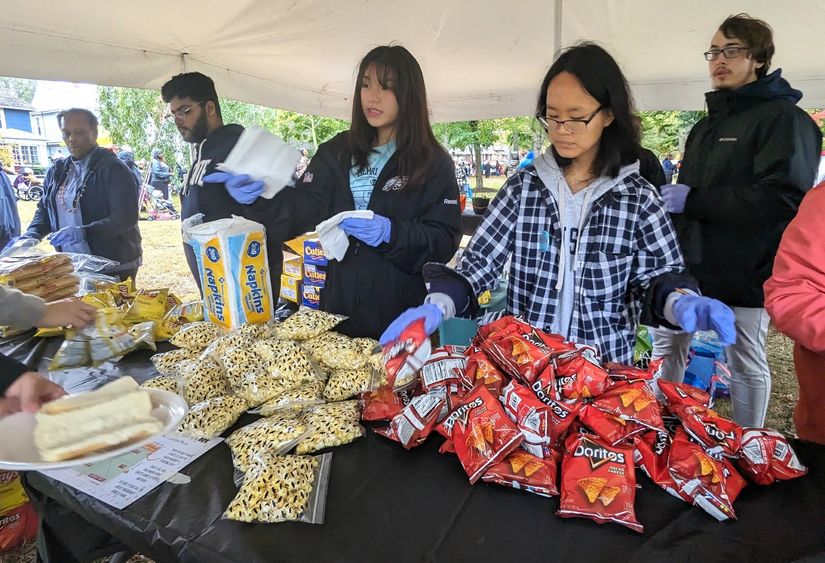 ERIE, Pa. — It was a small gesture — a hot dog, and an offer of ketchup — but a group of students from Penn State Behrend used it to connect with members of the Erie community, and with each other, during a two-day service project in October.
Thirteen Behrend students spent a weekend in an immersive public-service project in downtown Erie, volunteering at the Our West Bayfront Eerie Fall Fest in Gridley Park. They served hot dogs and cider and helped with set-up and clean-up at the event, which was attended by approximately 600 people.
The two-day initiative, dubbed 814-GOOD, was an offshoot of Behrend's annual Alternative Spring Break program, which sends students to distant locales for a full week of service work. During the COVID pandemic, when travel was limited, the Alternative Spring Break trip had to be restructured. That year, students volunteered locally.
"We've always wanted to do something in addition to Alternative Spring Break," said Chris Fox, assistant director of civic engagement and the Smith Chapel. "During COVID, we worked locally, with community partners, and that went really well. It made us think we could do something on a smaller scale, over a weekend."
The 814-GOOD group partnered with Gannon University for the two-day project. Gannon's St. Joseph House of Faith in Action, a retreat center, provided housing and a place where the students could debrief and bond as a group.
During the weekend, the Behrend students rode the bus as part of a "live and learn" program. They also stopped for groceries — for meals they cooked together — to better learn what life in a city is like when personal transportation is limited.
On the second day, the group volunteered at the Eerie Fall Fest, which featured family-friendly crafts, games, carriage rides, and a trick-or-treat parade. They staffed the concession stand, serving hot dogs and cider.
"I love service, and this made my heart very happy, to see smiles on people, especially the children," said Grace Mumo, a junior in Behrend's elementary education program. She previously participated in Behrend's Alternative Spring Break trips.
"My biggest takeaway from this experience was the realization that, even as a college student, I can make someone's life better by contributing my time to service acts and events and just asking, 'How can I help?'" Mumo said.
Athena Iverson, a first-year student in the elementary education program, served apple cider during the festival. She thought the 814-GOOD program would be a way to meet people and connect to the larger Erie community.
"The experience was incredibly rewarding and fulfilling, and I can't wait to do it again," she said. "I gained valuable insights into the power of community engagement and giving back. I also took with me a reinforced sense of empathy and social responsibility."
Service-based programs can be particularly valuable to first-year students, Fox said. The programs broaden students' experience, taking them beyond the campus, while helping them connect with like-minded classmates early in their college experience.
"We want students to know they are part of a larger community when they come to Behrend," he said. "This is another way to feel you belong not just on campus, but in the community."
Contact
Robb Frederick
Assistant director, news and information, Penn State Behrend