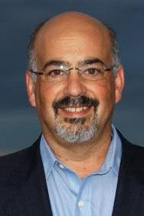 Kurt E. Cavano '78 was the 2006 Alumni Fellow for Penn State Behrend and was honored at ceremonies at University Park and Behrend. Cavano is Chairman and CEO of TradeCard, Inc., a technology and services firm that manages complex global logistics networks online in real-time. TradeCard modernized international trade finance by offering its clients an internet platform that automates financial dealings in the procurement-to-payment process.
Cavano has held this position since the company's inception in January 1999. When TradeCard was founded by the World Trade Centers Association, Cavano was appointed to spearhead the new project. E.M. Warburg Pincus, the company's majority private equity partner, then selected him to head the independent company.
TradeCard currently employees more than 125 people at its New York headquarters and worldwide in Hong Kong, Taipei, Seoul, and others. Its customers include Staples, JCPenney, Hurley International, Wolverine Worldwide, and Phillips Van Heusen. Revenue and transaction volume processed through the TradeCard platform increased some 200 percent through 2004 and is increasing at a monthly average of 10 percent.
Cavano is a frequent speaker and writer on issues involving international trade, cash management and wholesale banking, and has been named one of World Trade magazine's 50 most influential business people. Prior to this position, Cavano was a vice president at American Management Systems, an international business and information technology consulting firm.
Cavano earned a Bachelor of Science degree in bioscience from Penn State Erie, The Behrend College, and an M.B.A. in computer applications and information systems from New York University. He is married to Janet Mazur Cavano '79. They have two daughters and live on the New Jersey shore.