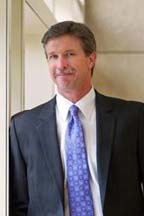 Daniel S. Mead '75, '77 was awarded the 2008 Alumni Fellow for Penn State Behrend at ceremonies at University Park and Behrend. Mead is a Warren native and president of Verizon Services Corp., a business group that manages finance operations, real estate and supply chain services for all Verizon companies.
Mead was appointed to lead Verizon Services in October 2005, when the unit was created. Under his leadership, the unit has generated more than $1 billion in synergy savings in its first two years of operations. In April 2007, Verizon Services was awarded the prestigious honor of "Best New Shared Services Organization" by the Shared Services & Outsourcing Network.
Mead and the Verizon Services leadership team are aggressively transforming legacy operations to achieve synergies and drive service quality improvements that are enabling Verizon to compete more effectively and deliver greater shareholder value. The unit's scope of responsibilities includes: finance operations that process $160 billion annually in various transactions; 155 million square-feet of real estate; and $35 billion in procurement as well as fleet, warehousing and transportation operations.
As a direct report to Verizon President and Chief Operating Officer Dennis Strigl and a member of the Chairman's Operations Council, Mead has a lead strategy role for Verizon with an emphasis on transforming Verizon's operating structure. He also co-chairs Verizon's Corporate Responsibility and Workplace Culture Council, through which Mead is leading a variety of "green" initiatives that aim to reduce Verizon's impact on the environment.
Mead was one of the founding senior executives responsible for launching Verizon Wireless (VZW) in July 2000 and helped to build it into the industry's leading wireless company. In early 2000, he was responsible for integrating the customer care teams and cultures of Bell Atlantic, GTE, Airtouch and PrimeCo, comprising 14,000 employees, at a critical time when they were becoming Verizon Wireless.
From March 2001 to October 2005, Mead was president of VZW's Midwest Area, a 15-state region with a population of 61 million that stretches from Pennsylvania to the Dakotas and from Minnesota to Kentucky. He managed all wireless operations that included 12 million customers, 10,000 employees and 460 retail locations. During his tenure, the unit exceeded $7 billion in revenue and delivered 17% year-over-year profit improvement annually. Mead has held leadership roles in various other telecommunications functions during his 29 years with Verizon and its predecessor companies.
Mead earned his master's degree in business administration and bachelor's degree in quantitative business analysis and finance from Penn State University.
Since October of 2006, Mead has served on the Council of Fellows at Penn State Behrend. The Council of Fellows is composed of community and business leaders who advise the college's leadership on strategic planning issues with particular emphasis on regional needs and economic development.
In 2008, Mead and his wife, Wendy, established the Daniel S. and Wendy J. Mead Trustee Scholarship at Behrend. The Meads, who are Warren County natives, provided a $100,000 gift to establish the scholarship, which gives first preference to students from Warren County.
"The Penn State experience provided a strong foundation for me to participate in the historic growth of the telecommunications industry," said Mead. "I appreciate the opportunity to now support talented Penn State students who are preparing to excel in their chosen professions."