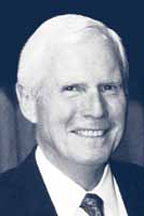 Donald R. Blair '52 is retired chairman, president, and CEO of Putnam Trust Company, a longtime commercial bank that is now a division of Bank of New York. Blair joined Putnam Trust in 1956 and rose through the ranks. He was named a senior vice president and secretary in 1970, president in 1973, president and chief executive in 1984, and chairman and chief executive in 1985.
During Blair's 37-year career at Putnam Trust, the bank grew from $35 million in assets and 45 employees to $700 million in commercial assets, $2 billion in trusts, and more than 300 employees. When Blair retired in 1993, Putnam had grown to become the largest independent bank in Connecticut. It was acquired as a subsidiary by the Bank of New York in 1995.
Widely recognized in banking circles, Blair has served as president of the Connecticut Banker's Association and as a state representative to the Governing Council of the American Bankers Association. In Greenwich, he was president of the United Way, director of the Chamber of Commerce, and a president of the Greenwich Council, Boy Scouts of America.
Blair was a member of Penn State Behrend's first class of students to attend in the fall of 1948. He was editor of the student newspaper, the Nittany Cub.
In 1998, he established the Donald R. Blair Scholarship Endowment to benefit outstanding students who have financial need. He is a member of the Mount Nittany Society, Glenhill Society, and is a life member of the Penn State Alumni Association.
Blair currently resides in Connecticut.