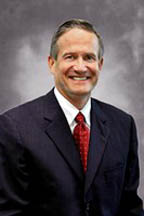 Erie native David W. "Dave" Grzelak '71, a Penn State alumnus and retired chairman and CEO of Komatsu America Corporation, was named Penn State Behrend's 26th Alumni Fellow in 2010.
Komatsu America is a wholly-owned subsidiary of Tokyo-based Komatsu Ltd. that manufactures and markets hydraulic excavators, wheel loaders, crawler dozers, off-highway trucks, and motor graders. Prior to joining Komatsu Dresser Co. in 1991, Grzelak held manufacturing, sales, marketing, and management positions within GE Transportation Systems.
Grzelak was honored at a Tuesday, October 12, 2010, dinner hosted by Penn State Behrend Chancellor Don Birx. The next morning, he was the keynote speaker at the American Society of Mechanical Engineers' annual Manufacturing Science and Engineering Conference being held that week in Erie's Bayfront Convention Center. Grzelak spoke to over 300 engineers, researchers, educators, and students, along with representatives from the conference's thirteen corporate sponsors.
In 1992, Grzelak was inducted into the Penn State Behrend Athletic Hall of Fame to recognize his outstanding tennis career at the college. He also has been honored with the Penn State College of Engineering's Outstanding Engineering Alumnus Award. He was a member of the boards of directors of Alamo Group, Boart Longyear, and the Leonhard Center for the Enhancement of Engineering Education.
Grzelak died December 26, 2022, at his home in Chicago. He was 73. Grzelak is survived by his wife, Diane; his children, Michael and Meghan; his five grandchildren, and his extended family.
Since 1973, the Alumni Fellow Award has been given to select alumni who are leaders in their professional fields. Alumni Fellows are nominated by an academic college and accept an invitation from the President of the University to return to campus to share their expertise with students, faculty, and administrators.