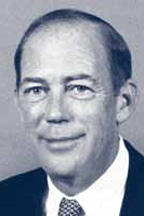 Richard J. Fasenmyer '69 was founder, president, and chief executive officer of RJF International Corp. Based in nearby Fairlawn, Ohio, RJF manufactures engineered polymer products for select specialty markets, including wall coverings, flooring, dry-erase presentation surfaces, commercial and industrial mattings, and specialty films for custom and commercial use.
Fasenmyer attended Penn State Behrend from 1965 to 1967, then finished his degree in accounting at University Park. After graduation, he moved to New York City to work for Haskins & Sells, a predecessor to Deloitte LLP. He requested a transfer to Cleveland where he later joined commercial sealant manufacturer Tremco as vice president and chief financial officer this led to a position as president of B.F. Goodrich Company's Fabricated Polymers division. In 1988, Goodrich sold Fabricated Polymers to Fasenmyer, to create the core of RJF International.
In 1992, Fasenmyer gave the college its first million-dollar gift. A plastics processing laboratory at the college is named in his honor, as is the annual Richard J. Fasenmyer Engineering Design Conference. Fasenmyer received his Alumni Fellow Award in 1991 and Penn State's Distinguished Alumnus Award in 2000. He passed away on December 26, 2002.