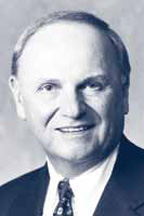 Thomas B. Hagen '55 is chairman of the board of Erie Indemnity Company and the Erie Insurance Group companies. He previously spent a 40-year career at ERIE, rising from parttime file clerk (while attending Penn State Behrend) to chairman and CEO when he retired. He is also chairman and owner of Custom Group Industries in Erie.
Following his career at Erie Insurance, Hagen served as the 28th and last Pennsylvania Secretary of Commerce and the first Secretary of Community and Economic Development. He is also a retired U.S. Navy Reserve Captain. Among his many business activities, he is currently chairman of the board of the Pennsylvania Chapter of Business and Industry. He has held leadership positions in many state and local organizations and has received numerous awards, including the United Way's Alexis de Tocqueville Award. Hagen is a member and former chair of Penn State Behrend's Council of Fellows and serves on the advisory board of the Black School of Business. A life member of the Penn State Alumni Association, he also served on the Penn State Behrend 60th Anniversary Committee and was the college's commencement speaker at the May 2009 ceremony. He serves on the advisory board for the college's Institute on the American Dream and is a member of the Elm Circle, the Mount Nittany Society, and the Glenhill Society.
Hagen attended Penn State Behrend from 1953 to 1955. He received his Bachelor of Science degree in business in 1957 from The Ohio State University, and in 1987 received its "Alumni Citizenship Award." In 1996, Edinboro University of Pennsylvania awarded him an honorary Doctor of Public Service degree.
Hagen resides in Erie. He and his late wife, Susan Hirt Hagen, are the parents of two children and grandparents of three.