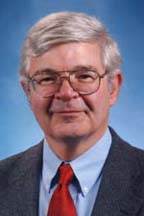 John S. Heller '67 is the 2003 Alumni Fellow for Penn State Behrend. He was honored at a campus ceremony on October 8, 2003.
Mr. Heller is a highly successful researcher and scientist, who works as a top executive for Abbot Laboratories in Kenosha, Wisconsin. He attended Penn State Behrend in 1963 and 1964, and then transferred to University Park, where he earned a bachelor's degree in chemistry. He holds a doctorate in biochemistry from Ohio University and completed a post-doctoral fellowship at the Yale University School of Medicine, where he worked for nearly ten years in medical research.
For the past twenty years he has worked in research at Abbott Laboratories, a global, diversified health care company devoted to the discovery, development, manufacture, and marketing of pharmaceutical, diagnostic, nutritional, and health products. He is currently director of R&D for reagent development at Abbott Laboratories and supervises a team of thirty-eight scientists and technicians.