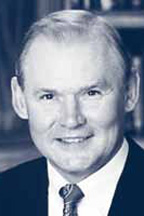 Edward P. "Ted" Junker III '59 was retired vice chairman of PNC Bank Corp. and served as vice chairman and director of PNC Bank, N.A. He was a member of the Penn State Board of Trustees, and served as both its president and vice president. He was a member, former chair, and current board member of the Penn State Behrend Council of Fellows. Junker joined Marine Bank in 1964. He rose through successive management positions before being named president in 1974 and CEO in 1983. In 1985, Marine was merged into PNC Bank, and Junker was elected chairman and CEO of PNC Bank Northwest Pennsylvania.
Junker was active in the development efforts of Penn State, helping to lead three capital campaigns, and chairing various committees. He chaired The Milton S. Hershey Medical Center board for many years. In 2007, he received the University's Philanthropist of the Year award. He was also a recipient of the United Way's Alexis de Tocqueville Society Award. In Erie, he played a leadership role in the Erie-Western Pennsylvania Port Authority, Erie Zoological Society, Erie Community Foundation, Saint Vincent Health Center, and Hamot Health Foundation.
In 1987, he and his late wife, Barbara '57, established the Edward P. and Barbara F. Junker Scholarship for students who demonstrate leadership traits. In 2001, the college named its new athletics complex Junker Center in recognition of a $2 million gift commitment to the college made by the Junker family. Junker was a member of the Laurel Circle, the Mount Nittany Society, the Glenhill Society, and a lifetime member of the Penn State Alumni Association.
He and his late wife are the parents of three alumnae, daughters Elizabeth J. Korman '81, Barbara J. Smith '82, and Susan J. Feyock '85. His grandchildren include Ryan Smith '08, Andrew Feyock '11, Stephanie Smith '11, Elanea Smith '12, and James Korman '13.
Junker passed away on December 10, 2016.