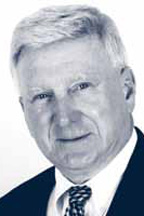 Mark H. Loevner '54 is the retired president and chairman of Trau and Loevner Co., an imprinted sportswear manufacturer in Pittsburgh. The company, which was established by Loevner's grandfather, Phillip Loevner, in 1897, is one of the top manufacturers of licensed college merchandise in the country, and sells its products directly to major mass merchandisers. Loevner transitioned the business from selling button-down shirts to small family-owned retailers to making multimilliondollar sales to giant retailers such as Wal-Mart. In 1992, he was named Entrepreneur of the Year in Western Pennsylvania in the social responsibility category for working with local social service agencies to hire the hearing impaired and first-time female offenders. In 1993, Loevner was honored as the Small Business Administration's Business Person of the Year for the state and the mid-Atlantic region. One year later, the national Blue Chip Enterprise Initiate Award recognized Trau and Loevner as a small business that faced a variety of competitive challenges, and emerged stronger.
Loevner graduated first in his class at Penn State with a degree in commerce and finance. He and his wife, Catherine, endowed the Mark and Catherine Loevner Scholarship in 1998, which provides recognition and assistance to students enrolled here who have achieved superior academic records. They are members of the Mount Nittany Society and the Glenhill Society.
The Loevners reside in Pittsburgh and have five children, Laurie, Howard, Philip, Caroline, and Dianna.